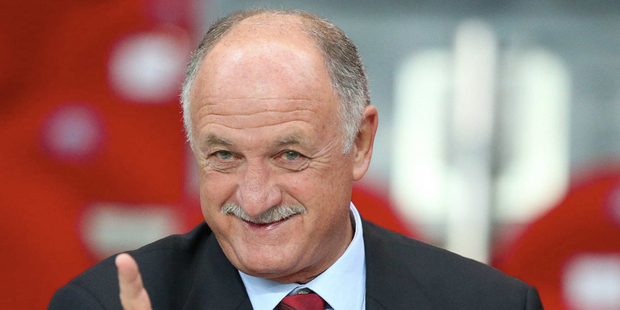 From a ban on 'acrobatic sex' to an adorable baby golfer, Daily Shorts looks at the light-hearted side of sport.
Brazil coach Luiz Felipe Scolari has warned his players he will not tolerate anything too energetic in the bedroom during this summer's World Cup finals.
Scolari is happy enough for his squad to indulge in a little hanky-panky, away from the pressures of attempting to win the trophy on home soil, but said he will be watching out for anything 'too acrobatic'.
Asked during a press conference whether he planned to issue a ban on his players enjoying pleasures of the flesh during the tournament, Scolari said: 'The players can have normal sex during the World Cup.
'Usually normal sex is done in a balanced way but some like to perform acrobatics. We will put limits and survey the players.'
MLB team gets 0.0 television rating
No one watched the Astros' lose their Major League Baseball match to the Angels on Monday. No, really.
According to Nielsen Company ratings, the Astros' Monday afternoon game against the Angels, aired on Comcast SportsNet Houston, received a 0.0 rating in the Houston area.
In other words, not one of the 579 TV set-top meters set up by Nielsen in the city to measure local ratings was tuned to the game, a 9-1 Houston loss. Ratings-wise, the game lost to its own pregame show, which got a 0.2, or roughly 4,600 viewers.
Of course, that doesn't mean that the Astros didn't have any viewers Monday; CSN Houston reaches 500,000 households in the area, so the odds are that at least one of those TVs was tuned to the game. But it's still a bad sign for both the team and the network, which is currently in the midst of Chapter 11 bankruptcy.
Hristo Stoitchkov tries to own troll, ends up revealing his porn habit
When football legend Hristo Stoitchkov was targeted by Twitter trolls this week, the 48-year-old decided to bite back.
Stoitchkov, a former Barcelona star, was attacked on social media after some disgruntled fans took against some comments made while working as a pundit on Spanish TV.
They began to fire of insults, in Spanish, to the retired wing wizard, who responded with several messages of his own.
However, the back-and-forth debate wasn't getting anywhere, so Stoitchkov decided to show that he's a better man - by showing the trolls a photo of him playing in front of thousands of fans, before asking what the trolls had done with their lives.
Now, Stoitchkov is clearly not that tech-savvy, so he took a screenshot of the picture of him in his playing days, and posted it on Twitter.
The only problem was that earlier in the day, old Stoitchkov had seemingly been watching some internet filth - with a tab called 'Free Porn Sex Video' open on his iPad.
An embarrassed Stoitchkov soon deleted the tweets and the screengrab
Braves set US flag on fire at home opener
In America, setting the national flag on fire is just about as bad as it gets.
But that's exactly what the Atlanta Braves did during their Major League Baseball season home opener against the Mets.
They set off a fireworks display way, way too close to the flag and it caught on flames.
The photo below was captured by a fan who was at the game, who then went ahead and posted it on her Facebook page. It doesn't matter what the team does from here on out, this is the defining moment of the Braves' 2014 season.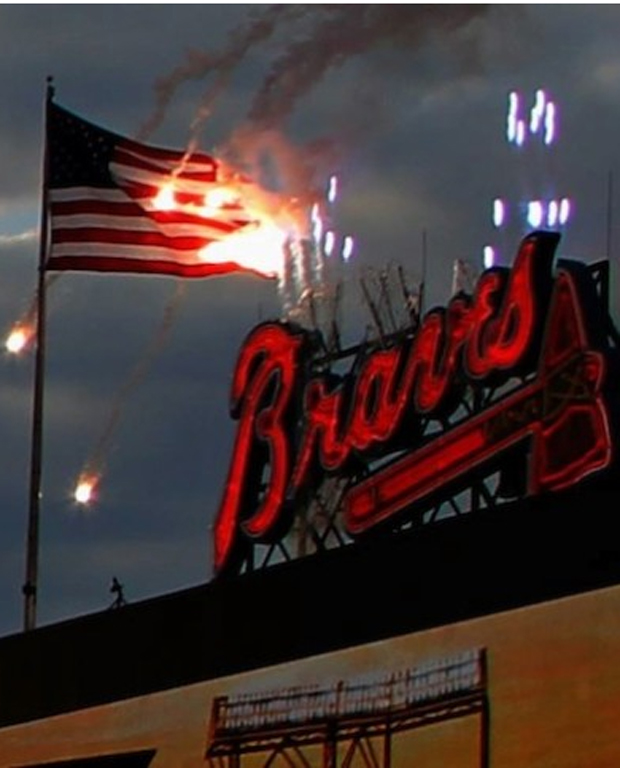 Also, like cute kids?
If so, you have to check out this spread from Deadspin, featuring golfer Scott Stalling and his adorable son Finn at the Masters.
He may well be our new favourite sports baby.