With Tana Umaga seemingly out of contention whoever takes over Hammet's job with Wellington-based franchise will have to win the fans over too.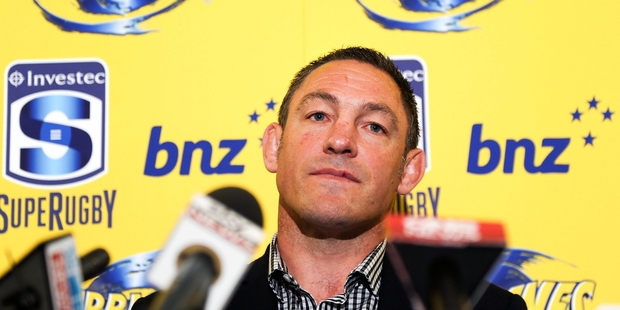 Whoever takes on coaching the Hurricanes will not have an easy ride to win the public over.
Tana Umaga seemed the sentimental choice given the storied playing career he forged in the capital but with his commitment to coach Counties until 2016, there's no clear candidate that screams out to be given the Hurricanes job.
As Mark Hammett confirmed yesterday he wouldn't continue as head coach of the Wellington-based Super Rugby franchise beyond this season, Hurricanes chairman Brian Roche said they wanted to name Hammett's replacement by mid-June.
"What we'd like is certainty and stability as soon as we can, for the players and just the organisation," Roche said.
"This is an important decision. We'll take as much time as we need to get it right but we don't want to be slow about it."
Wellington has been light on rugby success for years and the fans are no longer flocking to Westpac Stadium.
Hammett, who made his decision to step down before this season got under way, has faced vitriol unlike any other Super Rugby coach in New Zealand during his time with the Hurricanes.
There was always a simmering element of anger among Wellingtonians that a Cantabrian was coaching "their team".
Hammett said he accepted it and never let it bother him, although you have to wonder how much it ate away at him before he eventually made his final call.
"Criticism is part of the game," Hammett said. "It's also part of what we love about New Zealand because we are passionate about it and we are all critics. We've grown up with it. It doesn't matter whether you're a mum, dad, grandma or whatever. So that is par for the course."
That means whoever takes over Hammett's job will have to win the fans over too.
A local coach, or one with strong links to the region, would avoid the parochial issues people couldn't let go of in regards to Hammett.
Peter Russell and Chris Boyd are a pair of coaches with growing CVs and Super Rugby ambitions. They also boast ties to the capital with Boyd currently in charge of Wellington's ITM Cup side.
Roche said the search for a new supremo would span the globe.
"It's important we get somebody who fits where, strategically, we want to take the club, but [NZR] have an input. It's a collaborative process."
One other aspect of that collaboration appears to be the players and Hurricanes skipper Conrad Smith said they should have a voice.
"I don't expect to be sitting in the interview room or anything like that but certainly I know the players have a good relationship with most of the guys in the head office," Smith said. "I expect to be consulted at least on who they look to appoint."
The 3-4 Hurricanes have the bye this week but were back to work yesterday to prepare for their outing against the Blues at Westpac Stadium on Good Friday.
Coaching contenders
Peter Russell
The former Hawkes Bay coach recently announced he would leave English club Newcastle after this season, citing personal reasons. Russell would bring a strong local flavour to the Hurricanes, having coached at club level in Wellington before.
Robbie Deans
Moving into the longshots now, but the former Australia coach doesn't have a job and Super Rugby was where he did his best work.
Chris Boyd
Boyd would bring a wealth of experience to the table and would be a victory for coaches who aren't former All Blacks. Currently in charge of Wellington in the ITM Cup and the New Zealand under-20s, Boyd is a strong contender.
Matt Sexton
Sexton is based in Wellington working for New Zealand Rugby in a talent identification role and is highly thought of as a coach. His stint with Southern Kings in South Africa was short, but going for another former Cantabrian may be too much for the public to stomach.
Tana Umaga
Granted, Umaga announced yesterday he would stay with Counties until 2016 but contracts are made to be broken and if the offer was right, maybe one of Wellington's favourite sons could return to his old stomping ground.
Jason O'Halloran
Another former Hurricanes midfielder, O'Halloran is slowly making his way as a head coach. Currently in charge of the Manawatu Turbos in the ITM Cup, the jump to Super Rugby may be a bit much for him at the moment.