As the Warriors go through upheavals, skipper and Lillyman acutely aware of importance of their next deal.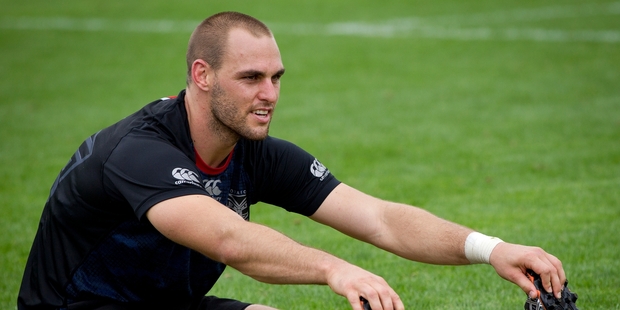 There are no guarantees the Warriors will be able to hold on to senior players Simon Mannering and Jacob Lillyman next season, as the club descends into chaos after the sacking of coach Matt Elliott.
The pair head a list of first-grade players off contract at the end of the year and Mannering, 27, and Lillyman, 30, are acutely aware of the importance of their next deal.
Mannering is the club's captain and is into his 10th season with the Warriors. Lillyman joined in 2009 and has been their best and most consistent forward this year.
Mannering admits the last two and a half seasons have been hard. He has seen two coaches sacked (Brian McClennan and Elliott) and two others leave (Ivan Cleary and Tony Iro) and it might have an impact on his decision.
"At this stage of my career, it's probably going to be my last contract so it's pretty important," Mannering said. "It was different in the past but I have a family now and a lot more responsibilities away from football.
I just need to take a bit more time and think about them and not just myself.
"It's not as clear cut any more when, if you love a club, you sign on the dotted line like that. I love this club but I love my family and I need to do what's best for them as well.
"The last couple of years have had an effect on me. If you ask my partner she would say that. It's been hard. I definitely don't want to go down that track again, that's for sure."
Mannering would be an attractive proposition for most NRL clubs. He's easily the most consistent Warriors player - a three-time Player of the Year and one of the best second-rowers in the game.
He grew up playing rugby before switching to league as a teenager and, although he still loves the 15-man game, he isn't considering a switch of codes.
'I don't think I would be good enough to pursue that," he said. "It's not really in my thoughts at all. I'm still thinking about what job I can do here at the club."
Lillyman joined from the Cowboys and has been a popular player because of his strong ball-running. He played twice for Queensland in 2011 and is being talked about as a contender again this season after a good start to the year.
"There might be one or two out there," Lillyman said with a smile when asked if other clubs had expressed an interest in him. "My manager will come over and talk to the Warriors and we will see what happen because now is the time to do it.
"Given everything that's happened, I'm still happy here and would like to stay. I've had a great time with a great bunch of lads. It's a great club. That will certainly be taken into account but this is a pretty important contract ... I will definitely be weighing up all offers and considering everything very carefully.
"I have no real desire to go overseas. If possible, I would like to finish my career in the NRL."
The club, although distracted by events off the field, still needs to make decisions about a host of off-contract players including Nathan Friend, Kevin Locke, Suaia Matagi, Jerome Ropati, Sione Lousi, Charlie Gubb and Sebastine Ikahihifo. It also needs to chase its targets, but the events of the past few days might put some players off joining the Warriors.
Chief executive Wayne Scurrah said the club had publicly stated its desire to keep Mannering and he was obviously a major priority. "We know he has some big decisions to make ... but we remain positive and in negotiations."APNZ
- APNZ