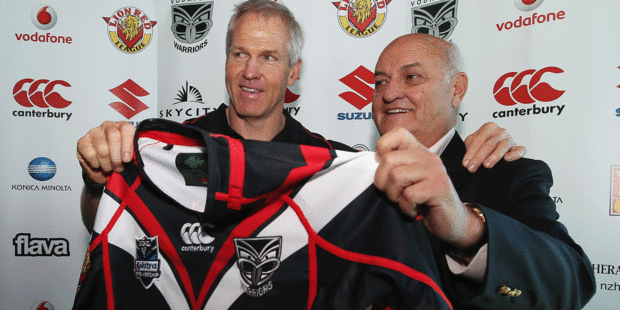 Warriors chairman Bill Wavish has refuted suggestions from co-owner Owen Glenn that he was not consulted in the departure of coach Matt Elliott.
Glenn earlier this afternoon described as "diabolical" the sacking of Elliott after the Warriors heavy defeat against Cronulla on Saturday, alleging the move was made without his prior consent.
But Wavish responded in a statement issued this evening, noting Glenn's comments but disagreeing with the order of events that led to Elliott's dismissal.
"I met with Matt on Sunday morning with the full knowledge and unanimous support of the Board," Wavish said. "This support included Sir Owen's representative on the Board, who subsequently told me that Sir Owen was informed.
"While the meeting was awkward for both Matt and I, as we have spent a lot of time together, the on-going coaching situation was not tenable and we finalised the media release together which covered his resignation."
The circumstances of that resignation were immediately questioned and Glenn today said Elliott was instead sacked from his post.

"I was sorry to hear of Matt's 'resignation'," Glenn said in a strongly-worded statement. "I was sorrier still when I learned that he hadn't, in fact, walked away from the Warriors at all - he didn't jump, he was pushed.
"But what I am most sorry about is the dishonourable treatment of an honourable man."
Glenn, along with fellow owner Eric Watson, has stated his desire to turn to Warriors into Australasia' pre-eminent sporting franchise, but he acknowledged results this season have been disappointed

"Saturday night in Sydney was worse than disappointing," he said. "Since I am known as someone who deplores mediocrity, I guess I would have to concede that hard questions needed to be put in the wake of the Sydney debacle - not just to the coach but to the players and the Warriors' management team.

"However, a decision to axe a coach needs to be scrupulously considered and properly ratified. Instead, what we have here is a seeming knee-jerk decision conveyed to Matt immediately after the game, without ratification by the full board of the Warriors - or by this co-owner.

"Adding insult to injury, there appears to have been an effort to evade accountability for the decision by dressing it up as a voluntary resignation rather than calling it by its proper name. This was clearly designed to convey the impression that Matt Elliott chose not to stay."
Glenn went on to wish Elliott well in the future and express his gratitude to the coach for giving his best in trying circumstances.
"The Matt Elliott I know is not a quitter. And in view of the service he has given to the Warriors and the strength of his character, to suggest that he would walk of his own volition is disreputable."
But Wavish said Elliott had been in touch with the club in writing and the coach thought the process that led to his departure to be "respectful".
"He was full of praise for acting head coach Andrew McFadden and said that he had been grooming him to be a head coach next year, which the Board was fully aware of," Wavish said.