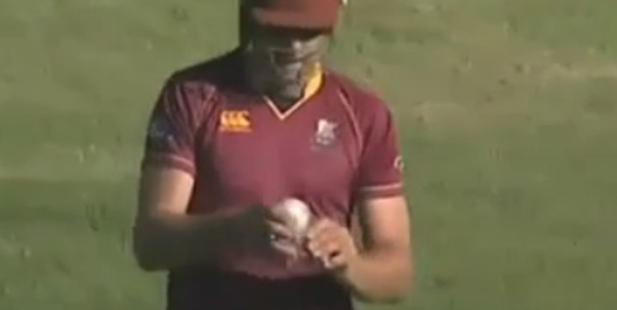 Pouring beer on the ball makes your team bowl better: Yeah Right.
A cheeky Northern Knights fan, kitted out in his district's maroon shirt and helmet complete with prohibitive beer-drinking grill, tried his best to help his team win the Ford Trophy one day cricket title on Saturday.
When opposition Wellington Firebirds star James Franklin smacked a towering six on to the largely empty Mt Maunganui embankment, the hardcore supporter enthusiastically chased the ball down.
But before he returned it to the field of play, he dropped the white ball into his not-yet-empty plastic beverage cup.
And just for good measure, he pulled it out and poured the rest of its contents over it before throwing it back.
A mate was so impressed by his brazen trickery that he shook his hand.
Commentators cracked up. An unamused Franklin stood in the middle and simply shook his head.
He was out soon after, but his team won the title in the last over thanks to some lofty blows by Luke Ronchi.
In setting sun, the victorious Wellington team sprayed champagne.
The beer-drinking Northern fan, however, drowned his sorrows elsewhere.
- APNZ