'Anything is possible' forms part of Bairds Mainfreight Primary School's mantra in Otara. That's what happened when the school's first XI won the Auckland 6B grade last weekend. Andrew Alderson investigates their success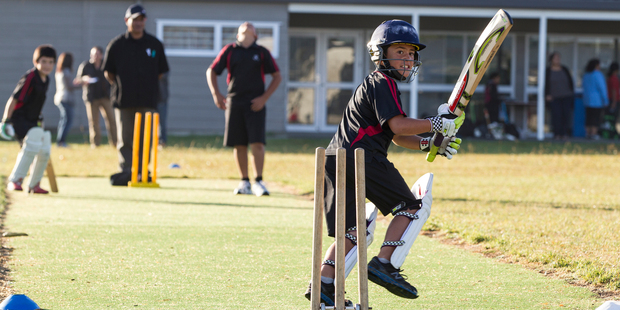 The batsman moves his left foot vaguely towards the ball, swings through the line, allows room to clear his hip and 'boom!' A dew-soaked red leather missile cannons to the cover boundary.
This is an unexpected sight rounding the corner into the grounds of Otara's Bairds Mainfreight Primary School, nestled in the decile one heartland. The hand-eye co-ordination is to a standard Brendon McCullum would be proud of. It fits the bill for a team who has secured their own piece of history. Cricket barely raised a whisper at this school five years ago. Now it's de rigueur playground conversation. The BMPS team, as part of Papatoetoe Cricket Club, became Auckland's 6B grade champions last weekend. They're also the primary school victors in what's described as the local 'Otara cluster'; they're the Mighty Ducks or Bad News Bears of their era.
How did this transpire? All clues point to deputy principal Fiona McAree-Ngaau or 'Fee', as she's known. She claims to know nothing about the game but sent a team to a Hooked on Cricket tournament organised by the New Zealand Cricket Players Association a few years ago. BMPS were trounced.
"I don't like losing," McAree-Ngaau says in Scottish burr, a reminder of her roots before she acted on the promise of a letter saying New Zealand was desperate for teachers. McAree-Ngaau got on a plane in 1997 and has never looked back. Her two children, aged six and nine, attend the school.
"I never get tired of this," she says of life at BMPS where she refers to her pupils as 'my boys' and 'my girls'. "We didn't know if cricket would work with our predominantly Maori and Pasifika population. We knew the kids had talent but cricket's not something our parents would be into traditionally.
"But there's a real family feel in this school. It's a warm culture. Kids come up and give you a hug in the morning. I'm also the one who has to tell them off at times, but they're just beautiful."
BMPS backs up that warm culture in subtle ways that make you realise this is not a stage-managed production. Sprucely-attired kids clamber over the jungle gyms and sing school songs before heading into their first class. The aroma of fresh baking wafts from the front desk in reception. The Friday morning tea roster means principal Alan Lyth has donned the apron to make scones and muffins. These peripheral elements paint a picture of a buoyant establishment.
Rather than blanket the school with the bureaucratic 'decile one' tag, McAree-Ngaau prefers to sum up their status as "parents who work hard, who don't have much, so we do what we can". The key objective is creating pathways for success.
Pivotal to that has been a 21-year partnership with logistics company Mainfreight who, to mark the 20th anniversary, set up five secondary school scholarships worth $500 a year for BMPS alumni and three tertiary education scholarships worth $3000 a year.
They originally signed on when the late board of trustees chairman, Pat Kake, was searching for a sponsor to get kids computer literate. Mainfreight delivered. The relationship has flourished to a point where one class a year is gifted an all-expenses-paid trip to Mainfreight owner Bruce Plested's Waiheke property for a barbecue at the beach.
Principal Lyth is in his sixth year in charge. He says they want to give pupils chances they wouldn't have otherwise.
"Mainfreight is not demanding. They simply want to support us. They trust us. It's not like a charter school where they want control. The more kids here are actively involved, the less likely they are to have behavioural issues. They know they won't be involved [in extra-curricular activities] without attending. Our aim is to grow all-rounders in the academic, sporting, cultural and citizenship realms. Many of these kids have dreams to be professional athletes but you need more behind you than that."
A catalyst to the school's cricketing success has been the relationship with Papatoetoe Cricket Club.
Garry Wood works as the development and coaching director. He was responsible for the programme which saw the club win Best Club Initiative at the New Zealand Cricket awards last year. PCC lost members with the construction of new facilities at the Papatoetoe Recreation Ground which left them temporarily homeless. Wood rejuvenated the club which, among other things, included building relationships with local primary schools.
"There's a perception South Aucklanders don't play cricket but Bairds saw if you put a gear bag out there kids will use it.
"These kids can achieve all they want in life, provided they know they can," adds Wood. "People here are creating pathways for that to happen.
"After their initial foray, Fee said 'what do we do next?' The kids and teachers started coming to coaching sessions on Friday night - and I'm told that for teachers to give up Friday night drinks is remarkable," he laughs.
"Yeah, unheard of," McAree-Ngaau quips as she takes up the story. "On Friday nights [in summer], we took the kids to the club. We were a little bit devious, too. At first we took the kids home at night, then, in the second year we got the parents to pick them up so they could see what was going on. That helped them buy into it."
A couple of years back public funds were also raised to install an artificial pitch in the school grounds, continuing the sustainability of the sport.
Team members haven't mulled for too long over the social consequences.
For them it's more about see-ball, hit-ball; as it should be.
"I like smashing it," says Martin Kaipo.
"I first liked cricket when my older brothers were playing in the backyard," adds Christian Tausinga, who was responsible for the earlier lofted cover drive. "Even when I got hit in the head I wanted to play more."
Tausinga's been modelling himself on McCullum.
"I've been trying some of his shots, like the scoop, but I always get out. That 300 was amazing, though. You hardly ever see cricketers get that many runs."
Martin Kaipo snr is the board of trustees chairman and part-time teacher aid. He didn't have much of a cricket background, but can see the benefits for his son.
"I was approached by Fee and said 'why not, I'll give that a go' because Martin doesn't often want to play sport. He ended up the most improved player [this season] which is more than I ever did."
Tash Smith, mum of Jovahn, has, like many parents, been recruited accidentally as team scorer.
"I was the only one there one morning ... but I've ended up enjoying it. It gives you a better sense of the game. Like any sport, this team has built up community relationships and I've made friends with parents I would normally just pass in the street.
"I never thought I'd be sitting there on a Saturday morning having a good laugh and a cup of tea with people from Remuera and Parnell. It definitely brings a sense of community.
"Cricket's not a sport I enjoyed initially but I've come to love it. What am I going to do on Saturday mornings now the season's finished?"