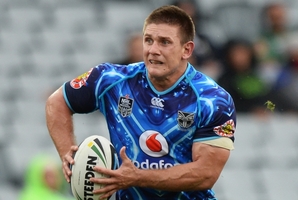 Weight gain can be a touchy subject at the Warriors but stacking on the pounds has paid dividends for prop Jacob Lillyman.
Lillyman has been the Warriors' most consistent player in the early rounds and even made 123m in yesterday's dismal loss to the Sharks.
He partly attributes his strong form to a new-found bulk. He is at the heaviest weight of his career after a productive pre-season in the gym, while also retaining his mobility and speed.
"I've found it better playing at a heavier weight," says Lillyman. "You jump on the scales some days and wonder how you might carry it but a long pre-season gives the body time to adjust."
Lillyman was just over 100kg when he first arrived at the club as a second-rower in 2009. He put on some muscle when former coach Ivan Cleary moved him to prop and last year hovered around 104kg. Now the 1.82m Queenslander has bulked up to 108kg.
"It gives you a bit more momentum," says Lillyman, "especially when you run into a couple of blokes, you have the ability to push through and find your front a bit easier than you would if you were a bit lighter."
So far it's working. In the first four games Lillyman averaged 15 carries and 130m with the ball in hand. He also made nearly 20 tackles per game and contributed three tackle breaks.
Beyond statistics, it's also the way Lillyman has been making ground; often in powerful surges, winning the ruck and putting the team on the front foot. Aside from increased mass and power, a new mental approach has also helped the 30-year-old.
"One of the biggest things for me is consistency and I wanted to get to the stage where week in, week out I was performing at the level I expect," he says. "It's tough to play in the middle but you have to find a way to push yourself through those pain barriers and perform up to expectations. So far so good but there is still a long way to go."
Like the rest of the Warriors pack, Lillyman has also been working on his passing game. They aren't looking to become the new Bulldogs, but the occasional transfer just before the defensive line helps to reduce predictability.
"It's such a valuable thing for a guy in the middle to have," says Lillyman. "It means the defenders have to check your support. It makes them hesitate and helps take the flies off you a bit."
His current form might also propel him back into State of Origin contention. Lillyman played for the Maroons four times between 2006 and 2008 and made two further appearances in 2011.
"It's not really something I am thinking about," he says. "Club football is the be-all and end-all and if you are performing at that level then all those other things happen."