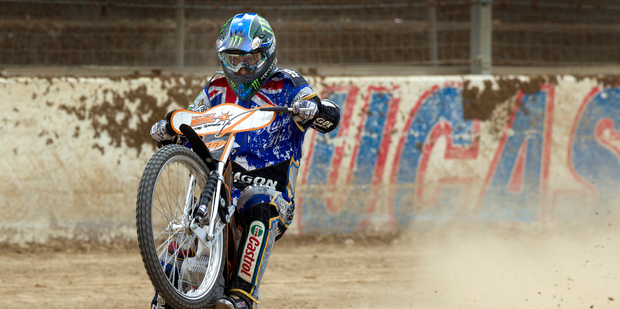 Forget "no brakes, no fear" - the tagline for tonight's Speedway Grand Prix event should be "no guts, no glory".
Aside from the sheer skill on display today at Western Springs, you will also see raw courage in every race.
All motorsport has some element of risk, but the men on these highly tuned speedway bikes have less protection than in most other forms.
Though they make it look easy, navigating around the track at high speed on these 500cc single geared machines is anything but. Injuries are just millimetres away, the difference between a mistake and a masterful move.
"The sport is really dangerous," says 2012 world champion Chris Holder. "The whole [no] brake thing sounds scary but that is the least of our concerns. You are racing four guys really close only for a minute and everyone is going flat out. It's tough - a little mistake can hurt you really badly."
Holder's title defence was cut short last year after a crash when riding for his British club team Poole.
He missed a good chunk of last season and needed a wildcard to enter this year's championship.
"It wasn't a really big crash but it was high speed," recalls Holder. "I broke my pelvis, my hip and shattered my heel in one go. We love it but that's the downside of this sport - it's always in the back of your mind but you have to forget about it. We know what we are in for when you throw your leg over; you might try and ride a bit safe but everyone is pushing it to the limits so you have to forget about it."
"You have to be quite aggressive to race Speedway," agrees 1970s Speedway legend Ole Olsson. "As soon as you start hesitating the risk is bigger. Of course it's not about going flat out and closing your eyes but you need to be in the flow and be aggressive with it. But these boys are artists on motorbikes."
Meanwhile, Holder is positive about the later start time of 6pm this year, after last year's racing started in the afternoon at 4pm.
"To race at night is a lot better for the atmosphere but especially the track," says Holder. "Racing later means the track holds the moisture in it and doesn't dry out so much it will stay in better condition for longer. It should make for better racing."
Jason Bunyan again carries New Zealand hopes into the event, after a credible performance in last year's grand prix. Still, it is a massive step up for Bunyan from British club racing to world championship level.
"One of the the hardest thing for Jason is getting the right equipment," observes Holder. "He rides fine - he could ride as good as most but the gear needs to be up to standard. Our equipment is usually better, that's a big difference and it is also tough to come in just once a year."
But Holder is no discounting Bunyan's chances of a surprise or two, especially as he has the experience of the 2012 and 2013 events at Western Springs.
"It is definitely tough for him but not impossible," says Holder. "He just needs a bit of luck, a few things to go his way and he could be right in it."