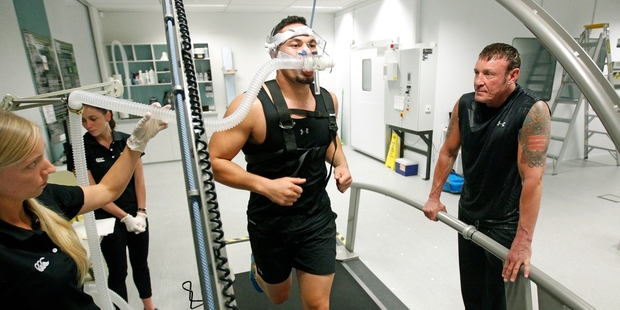 If there is nowhere to hide in a boxing ring, there is also no hiding during a fitness test, a fact which quickly became apparent to Joseph Parker this week as he ran himself to the limit on a treadmill.
A whirlwind three days in Auckland publicising his heavyweight fight against Sherman Williams on the undercard of the Wladimir Klitschko v Alex Leapai world title bout in Germany on April 27 finished at the Millennium Institute, where Parker was subjected to several tests.
One was a measurement of his "Vo2max" level which indicates an athlete's aerobic endurance fitness.
At the institute, Parker, trainer Kevin Barry and the Herald are led to an air conditioned laboratory where the 22-year-old creates initial consternation by weighing in at 112kg - 6kg more than when the pair left Las Vegas only days before.
"That can't be right, he's been training twice a day for three days," Barry says, before it is decided the flight, fluid retention, and increased hydration levels must have contributed to the extra weight.
On the treadmill, Parker puts on a harness attached to a rope to prevent him being propelled off the back of the machine. Juliet Skleryk, a performance physiologist at the institute, later explains that some 400m runners can reach speeds of 30km/h on the treadmill - if you can't maintain that pace the consequences can be dramatic for the runner and anything behind them.
After a short warm-up, Parker is connected to a mouthpiece and hose and told that the treadmill will start at 10km/h and increase in speed by 1km/h per minute up to a maximum of 15km/h, then the incline increases.
After a short while it is all over, Parker signals for the treadmill to stop once the speed reaches 15km/h and the first incline increase kicks in. While Parker collects his breath, Barry talks. "You can never have enough data. Ever since I started working with Joseph 12 months ago I've recorded every single session we've done together.
"My training diary I send out every week to immediate members of my team so they can see the improvement week by week. He's a very good runner for his size. There's not many heavyweights that run five miles [8km]; we run five miles most mornings, the only time he doesn't is when I have him sparring."
Skleryk reveals Parker's "score" is 46 (millilitres of oxygen per kg per minute) "For a really large, big boxer, that's good," she says.
"For a power athlete like Joe it's not the be-all and end-all but 46 is respectable. It's definitely better than average."
- APNZ