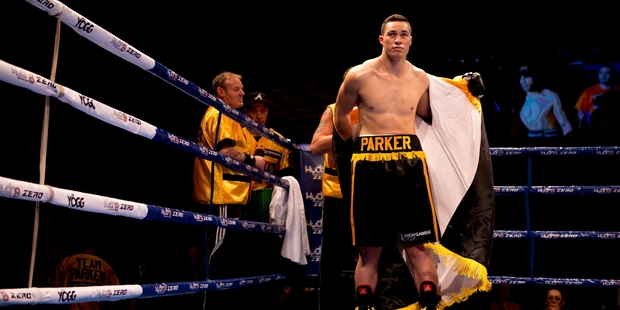 Oberhausen, the former mining town in Germany's Ruhr district, is where New Zealand heavyweight Joseph Parker's professional fight-game education will continue and his assignment in three weeks against Sherman Williams is likely to be one steep learning curve.
It's not only the fact that Williams is a durable, experienced opponent who has been stopped only once in 52 fights, it's the wider significance of the evening which makes this easily the biggest fight of his fledgling career.
Parker, 22, is fighting on the undercard of the Wladimir Klitschko versus Alex Leapai heavyweight title clash, a bout which will attract a huge crowd and television audience.
There is also the broader context of Ukrainian Klitschko fighting for more than just himself. With the political situation in his homeland reaching critical levels as big brother Russia asserts its authority, Klitschko has stated that his fight against Leapai, a Samoan Australian who spent his childhood in New Zealand, is the most important of his career.
"How can I even think about boxing when my fellow countrymen and women are being murdered in the streets of Kiev?" Klitschko asked during an interview with London's Daily Mail. "It is so terribly sad. I want to pay my respects to those tortured and beaten up, to those put in prison and to those who have been killed. They died as heroes."
Klitschko added: "It is the most important fight of my entire career. What can be more important than finding a way to keep your country united?"
That is one daunting backdrop against which to prepare for your eighth professional bout. Parker is known to be a cool customer before fights but his nerves have the potential to be stretched to breaking point at the Koenig Pilsener Arena on April 27. However, he has faith in his skills and preparation and another comfort is the fact that his younger brother, John, and his parents will be in the dressing room with him.
"Just thinking about the crowd that's going to be there and the people watching, that excites me," Parker said yesterday. "That's what motivates me at training. I know it's going to be a big event but I'm not going to let it get to me.
"I'm still at the beginning of my career, I've only had seven fights, so for someone to be on this stage after seven fights, I'm very fortunate.
"The training I do before fights gives me confidences. I go in cool, calm. In the changing rooms [I will be] smiling, chilling out and just dancing around listening to music. It's important to stay relaxed and not tense up. If you tense up you get too tired before the fight."
Leapai earned the right to fight Klitschko after his upset victory over Denis Boytsov in November, a triumph which has earned him a shot at the big time and which has resonated strongly with Parker.
"I'm very excited for him, thinking about that motivates me as well - a Samoan brother fighting for the world title."
- APNZ