NZ captain says his side has a year to break the habit of failing at events such as the World T20.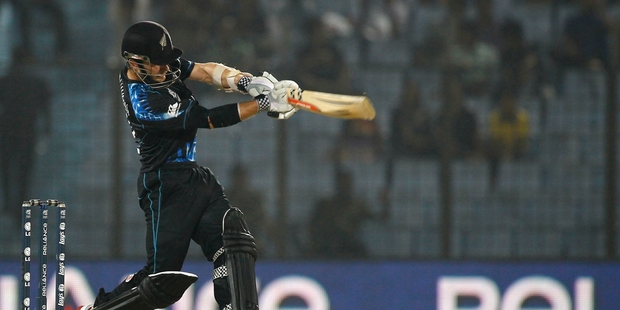 The New Zealand cricket side set a lot of records this summer including a number of unwanted ones in their dismal 59-run defeat by Sri Lanka at the World T20 in Bangladesh yesterday.
Set 120 to win after an excellent bowling and fielding effort, the Black Caps were bundled out for just 60. And one player made 42 of them.
It left the statisticians grasping for their record books.
"Lack of composure, lack of basically expressing your game plan, going into your shell," New Zealand coach Mike Hesson told Radio Sport. "Allowing the spinners to bowl to us and die in a hole. It was an embarrassing batting performance."
The scorecard makes the point: 5, 42, 0, 0, 0, 2, 2, 4, 3, 0. And they were all out inside 15.3 overs.
It didn't help that Corey Anderson couldn't bat because of a dislocated finger but it's questionable whether he would have made much difference given they got only halfway to the target.
"How did we get out for 60?" captain Brendon McCullum said. "And one guy got 40-odd? I'm still trying to work that one out myself.
"We just didn't adapt ourselves and played some mindless cricket. We took some poor options and, as a result of that, we're on the plane home."
What will hurt is the players know they shouldn't be. Not yet, anyway.
Poor performances are possible in Twenty20 cricket - Australia were all out for 86 against India, England were rolled for 88 against the Netherlands, who made only 39 against Sri Lanka - but New Zealand should have beaten South Africa in pool play and secured a place in the semifinals. They needed only seven off the final over with five wickets in hand and Ross Taylor well set on 62 not out.
It means Sri Lanka will face either Pakistan or the West Indies in one semifinal with South Africa meeting India in the other semifinal.
It took the shine off an otherwise good summer for the Black Caps after memorable performances against the West Indies and India. It doesn't mean they have become a bad side overnight but it will do little to quell fears that the Black Caps struggle when the pressure comes on at big tournaments.
New Zealand have made the World T20 semifinals once in five tournaments - at the inaugural competition in 2007 - and in Sri Lanka in 2012 they exited having tied and subsequently lost in two eliminator overs to the hosts and eventual champions, the West Indies.
At World Cups they've also been ousted at the semifinals stage at six of 10 tournaments.
"Something is going to have to change at some stage otherwise we are going to keep turning up at tournaments and winning a couple, losing a couple and never claiming any silverware," McCullum said.
"Something [that] has to change is New Zealand is going to start winning major tournaments. We have one at home in a year's time which better be it."
For the record
• The total was New Zealand's lowest in T20 internationals, eclipsing the 80 they managed against Pakistan in 2010.
• The 59-run defeat was their third-worst losing margin and the highest margin for a team set a target of 120 or less.
• Three of New Zealand's top-five batsmen were dismissed without scoring, which is the eighth time that has happened in international T20s.
• Rangana Herath's five for three are the third-best in T20 internationals, but the best on average (0.60 runs apiece).
• Kane Williamson scored 70 per cent of New Zealand's runs, outdoing the 65.70 per cent David Warner (90) scored for Australia in their total of 137 against Sri Lanka in 2013.
- APNZ