Hammett's side let their performance speak for them in their victory over Crusaders.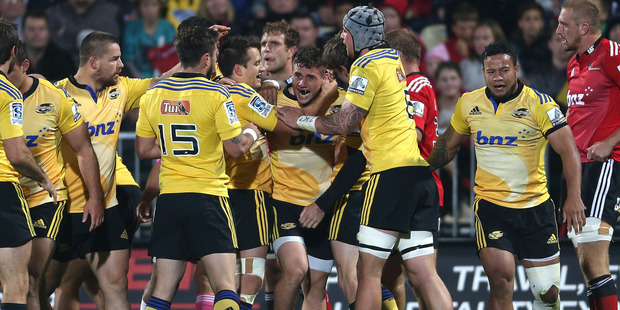 As the Hurricanes struggled through an indifferent start to their Super Rugby campaign one thing never wavered. Rightly or wrongly, they had an unflinching belief in their preparation heading into each game.
Dropping four of their first five contests only fuelled the fire for the naysayers who don't believe Mark Hammett and his coaching staff are up to much in the capital.
But the Hurricanes let their performance speak for them with their 29-26 victory over the Crusaders in Christchurch last Friday.
Video: Rugby: Hurricanes 'we've worked hard'

It was the type of display that should kickstart a side's season and although the Hurricanes never truly looked out of the games they did drop in the early stages of their campaign, they didn't do enough to earn wins.
The congested nature of the Super Rugby points table means the Hurricanes are now only a win away from flirting with a top six spot.
Looking back to Friday's victory, halfback TJ Perenara said his team never doubted their ability to put together a complete effort.
"The way we prepared was as normal. We didn't try to do anything outrageous or try to change the world at all," he said. "We just stuck to how we've been preparing and what we were good at and that was something that really shined through.
"We put things together in the weekend that weren't working weeks before that probably cost us. But just keeping our preparation the same and trusting what we were doing was right was something that definitely helped us. For it to work gives us a lot of confidence going forward."
The Hurricanes will now look to the Bulls, whom they host in Napier on Saturday.
Hammett's side is likely to welcome back loose forwards Victor Vito and Brad Shields, who have overcome their respective knee ailments, while prop Reg Goodes is also fit again.
Second-five Tim Bateman, who returned from a knee injury of his own to play against the Crusaders, has a sore shoulder and is a possible scratching for this week, although wing Cory Jane is likely to have overcome an ankle problem that has troubled him lately.
"We normally get a gauge around Wednesday whether those boys are going to make it or not," Hurricanes assistant coach Alama Ieremia said.
"But they're good situations to be in this week. Now we've got some good players coming back but we've also got some good players that are performing."
If Bateman is ruled out, Alapati Leiua might push in to second-five, which would open up a spot on the wing for Jane.
It would give a real punch to the Hurricanes' midfield after the Samoan international scored a scintillating match-winning try against the Crusaders.
Ieremia didn't think there was a certain reason behind the side's improved showing against the Crusaders and acknowledged the Bulls would provide a different challenge this weekend.
"It's about helping ourselves and looking after our own areas first and foremost."
- APNZ