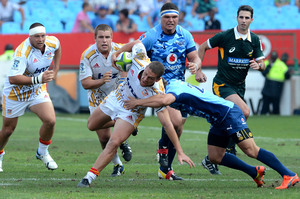 An incredible revival in the Chiefs' draw with the Bulls will not obscure the reasons the champs required such a finish in the first place.
Nineteen points in the final 11 minutes, including a sideline conversion from Gareth Anscombe with the last kick of the game, gave the Chiefs an unlikely share of the spoils in Pretoria yesterday morning.
The 34-34 scoreline saw the defending champions claim three competition points to sit above the Blues atop the New Zealand conference, a position attained only after the Bulls were unable to win a game they largely controlled.
While the Chiefs certainly deserve credit, showing character and resolve few teams could conjure in a similar position, the deep hole they dug themselves was preventable. A lineout in disarray and a sub-par kicking game allowed the Bulls to showcase their strengths, with physicality in the forwards and a strong set piece establishing a dominance that seemed certain to produce victory.
Had that result transpired, the Chiefs would have been handed back-to-back defeats for the first time in almost a year, and questions may have crept up about their true credentials. As it was, Dave Rennie knows his side still need to find some answers before they complete their road trip against the Cheetahs next weekend.
"We lost the kicking battle today and that put us under pressure," Rennie said. "We kicked down the middle of the field a lot and we often kicked to hand, while they kicked to space.
"Obviously our lineout battled a bit. We didn't want to kick the ball out and we didn't want to give away too many penalties, because we knew they would kick for the corner and drive.
"But we got better as the game went on. We're trying to dictate the tempo and we're trying to do a few things there - hopefully we'll have more success against the Cheetahs."
The mixed success they enjoyed against the Bulls was largely through the attacking depth the Chiefs boast on the bench, with Anscombe, Tim Nanai-Williams and Augustine Pulu combining for a brilliant try that was the catalyst for the resurgence.
"That's what you want from your spark plugs," Rennie said. "To be honest, when they first came on they battled a little bit - that's the thing about playing at altitude. "But I thought the guys we brought into the game were quite phenomenal." Kris Shannon
- APNZ