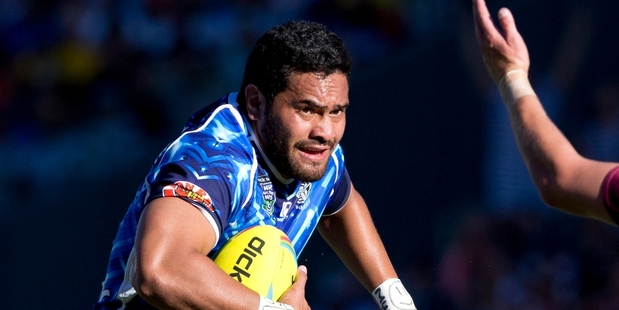 Glen Fisiiahi says he isn't one for extravagant celebrations when he scores a try - but he is building an eye-catching record.
Last night the 'Flying Fish' crossed for four tries, the first quartet by a Warriors player since Joel Moon in 2009. He has now scored six tries in the last two matches (more than he managed in the entire 2013 season), showing a predatory instinct that has been touted since he first broke into top grade.
"It feels unreal," said Fisiiahi of his four-try effort. "I need to thank the boys - I was just in the right place at the right time."
Konrad Hurrell threw the final pass for three of his tries, the bullocking centre showing timing and finesse to release the ball at the perfect moment. It is an overlooked part of the Hurrell skill set and one that may come to the fore as the season progresses.
"He's a threat, they were occupied by him and that left me free," said Fisiiahi. "I guess two years ago he would have just gone himself but his game has really improved."
Unlike Hurrell, Fisiiahi shuns signature try celebrations ("I'm not much of a try celebration guy any more"), maybe after his infamous premature celebration a few years ago when the ball was knocked out of his grasp.
Importantly, Fisiiahi also stood up defensively last night, with the Warriors' edge defence fairly solid by their standards.
The only sour note from last night was the horrific injury to Jerome Ropati. He was rushed to hospital with a badly broken jaw, after catching the foot of James Tedesco in a try-saving tackle. Early indications are that the luckless Ropati, who was unable to speak after the incident, could be sidelined for up to 12 weeks.