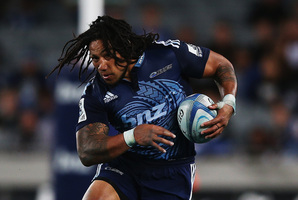 Blues' supporters questioning the wisdom of getting Ma'a Nonu back this season should have had their minds put at ease by the performance of the All Blacks midfielder at Eden Park last night.
This was an important game for Nonu, his first start in Super Rugby since returning from his season at the Highlanders. He dipped his toe into the water with 27 minutes off the reserves bench in the victory over the Cheetahs last weekend - and last night made one of the biggest splashes for Sir John Kirwan's men.
His body appears good after his ankle surgery. His mind seems pretty good too. Kirwan said Nonu probably wouldn't last the 80 minutes but he did it with ease.
The last time these teams met in Auckland, he was playing for the Highlanders and set about making himself public enemy No.1 with a nasty high shoulder charge on his Blues mate Piri Weepu, an act for which he received a yellow card and whole lot of opprobrium. It seemed to sum up his time at the Highlanders - frustration with a dose of bitterness - but last night he made an impact for the right reasons on the right side of the law.
The way he can pinball around defenders is well known but it is his ability to put the men around him into space with his handling and vision which isn't always as obvious.
He really is the proverbial iron fist in the velvet glove and having that threat, fully engaged and ready to go, lurking in the midfield, must be a nightmare for the opposition.
His first-half try was set up by Bryn Hall's scorching run from a lineout but it was the big No.12 who helped to create the space through which the No.9 exploded. He attracts defenders as a magnet does iron filings.
Hall, who enjoyed a good starting debut in place of Weepu, was brought down a metre from the line and it was Nonu, in combination with Steven Luatua, who did the rest.
Elsewhere, Nonu worked hard settling a backline led by a slightly under-par Simon Hickey. The 20-year-old was probably due for a reality check after a promising start but in Nonu the Blues had the perfect Mr Fixit.
Jackson Willison looked good at centre and George Moala did well after his shift from No.13 to the left wing. Charles Piutau scored a try he had no right to, thanks to his individual brilliance.
The finish to the game was a bit untidy overall but there were no big breaks by the Highlanders. Last weekend the Cheetahs ran through the Blues' outside channels too easily; this time the defence was sound.
The Blues' backs, with Nonu to the fore, are starting to look settled and increasingly dangerous and that will be a serious worry for all of their opponents.