Blues doctor explains how medical staff were alerted to Piri Weepu stroke drama while on tour in South Africa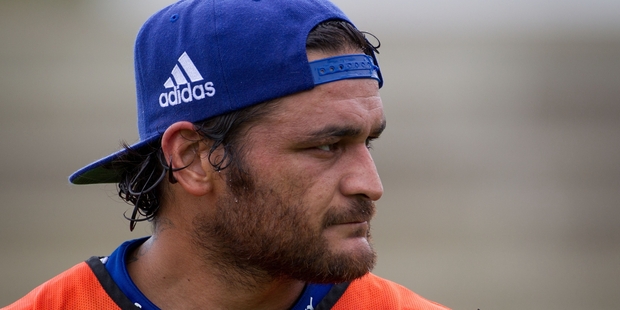 It was Piri Weepu's speech problems while with the Blues in South Africa that prompted the scan that revealed he had played three matches after suffering a minor stroke.
Weepu is expected to make a full recovery from the stroke he is believed to have had on March 1, the day after he played the Crusaders at Eden Park and the day the team flew to South Africa for matches against the Bulls and Lions - both of which he played in. He also played in the victory over the Cheetahs at Eden Park last Saturday but now faces a spell out of the game of four weeks at least.
The stroke - which caused Weepu to slur his words "like he was drunk", according to Blues doctor Stephen Kara - was initially diagnosed as a migraine by Kara and a specialist, but it was the halfback's continued issues with his speech in South Africa which raised alarm bells.
"He did say to me that he felt his speech was a bit slower and that he had some difficulty finding words or articulating words and he had to think about the language that he used," said Kara, who added that, at 30, Weepu was not a prime candidate for a stroke.
"You wouldn't know talking to him ... it was only the fact that he felt his speech was slower and he had to think about his words before he was talking to other people which made us get a scan."
That scan was carried out on Monday, with Weepu writing of his concerns on social media site Twitter the night before. Kara initially believed it was clear and Weepu told media of his relief at that diagnosis on Tuesday before a specialist found a small area on the left side of the brain - which controls language - consistent with signs of a stroke.
Further tests on Tuesday confirmed it. Weepu, who was scheduled to be discharged from hospital yesterday afternoon, tweeted after his diagnosis was confirmed: "Thanks for all the support guys, much appreciated. I'm sweet, looking forward to getting back on the park as soon as possible."
The cause of the stroke remains unknown, but Kara said Weepu's heart had been examined as the source of a possible clot. "That's what we think has happened - that a clot has parked itself in that part of the brain."
Kara added it was possible Weepu had a small hole in his heart. "Probably 40 per cent [of the population] have these but don't know about them ... he would undergo minor surgery to correct that."
Rugby was not the cause.
"This is not a rugby-related incident. This is not related to a concussive event or to any blow. This is something that happens in the normal population."
Blues coach Sir John Kirwan said Weepu was determined to announce the news to the team. "We're all pretty shocked, obviously. The other day was pretty devastating for us all. Piri, the man that he is, wanted to tell the team. So things happened very quickly.
"It makes you think about life in general. All of us have thought about that and our thoughts are with Piri. We need to stay really strong for him."
Kara said Weepu was likely to be put on long-term blood-thinning medication but that he would be able to continue his rugby career.