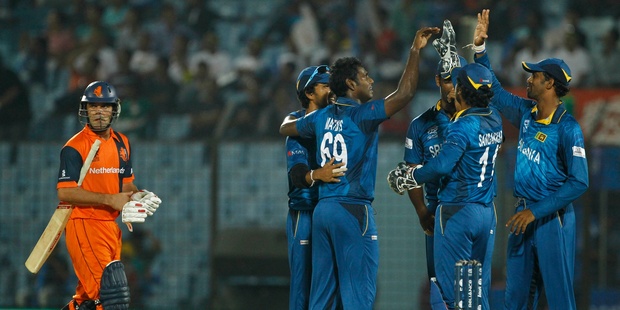 When the Dutch cricket team was bowled out for 39 by Sri Lanka in their T20 cricket World Cup match on Tuesday, neutral cricket fans cringed in embarrassment.
It was a record low total in a T20 international and Sri Lanka only needed five overs to complete one of the most one-sided cricket romps ever.
But how does it stack up with the biggest sporting blowouts of all time?
Nzherald.co.nz lists five of the best.
Cricket: England v Australia, 5th test, 1938
England won by an innings and 579 runs
Picture this: You're the last partnership and your team needs 585 runs....to make the other team bat again. The recent Ashes series may have been one-sided with Australia completing a 5-0 sweep but the fifth test of the 1938 series at the Oval remains the biggest rout in the history of test cricket. Batting first England scored a mammoth 903 for seven declared, still the second highest ever team total, as Len Hutton broke Don Bradman's record for the highest individual score with 364.
The good news for Australia, Bradman was on the field. The bad news, he wasn't there for long after badly rolling his ankle on the Oval turf. With Jack Fingleton also out with a strained muscle Australia had just nine batsmen (and Bradman was really worth two himself). Australia then lost their first wicket without scoring and were quickly bowled out for 201 and 123. After England's innings lasted a touch over 15 hours and 335 overs, Australia were dismissed twice in just four hours and 45 minutes.
Netball: Silver Ferns 107 Cook Islands 17
Speaking of the Don, the Silver Ferns had a Bradman-eske start to the 2003 netball world championships in Kingston. New Zealand opened the tournament with a 99-11 win over Niue followed by an 84-45 thrashing of Barbados. Next up on the schedule was the Cook Islands who went into the game on somewhat of a high following a 10-point win over Niue. In their New Zealand encounter even getting 10 points was a massive challenge. The Silver Ferns led 60-6 at halftime after the Cooks scored just two goals in the second quarter and were left scoreless for seven and a half minutes. The Ferns took the foot off the brake slightly in the second half but still cracked the century. Cook Islands would have been no doubt glad that the new two-point rule, that will soon be trailed, wasn't in play.
Rugby: Hong Kong 164 Singapore 13, 1994
Hong Kong are not exactly a rugby powerhouse, currently ranked 25th in the IRB rankings, but they do hold a proud record of most points and tries scored in one match. During a 1994 clash with Singapore they ran in 26 tries with fullback Ashley Billington dotting down 10 times (he scored only four tries in his other seven test matches). 12 of the 16 Hong Kong players to take the field that day managed to score a try while Singapore scored once to at least have something to cheer about.
It's however not the biggest margin of victory in international rugby. Argentina share that record following a 152-0 win over Paraguay in 2002 (they met again 12 months later and it was 144-0). Japan also won by the same margin 155-3 against Chinese Taipai the same year.
Soccer: Australia 31 American Samoa 0
When Australia were pooled with American Samoa in a FIFA World Cup qualification match in 2001, there was only ever going to be one result.
Australia's world stars had home advantage against a depleted, part-time island outfit and the Socceroos set a world record by beating American Samoa 31-0 in front of 15,000 fans in Coffs Harbour.
Australia recorded a goal every 2min 45sec, but in real terms their strike-rate was even quicker, when the time for restarting the game was taken into consideration.
American Samoa, whose population numbers 62,000, were deprived of their senior squad through a passport mix-up.
The visitors could not draft in their under-20 players because many were involved in end-of-term exams. So the youth team were called in, and to make matters worse they arrived without boots, lost two players to training injuries and had to field two 15-year-olds in a side whose average age was 18.
The Samoans held out until the eighth minute, after their goalkeeper, Nicky Salapu, made his first - and last - save.
Archie Thompson, who had at the time managed one goal in two other appearances for his country, scored a record 13 goals, eight before half-time, when Australia led 16-0. His haul beat the previous individual World Cup record of seven goals, scored by Charlton's Iranian, Karim Bagheri, against Guam.
Ice Hockey: South Korea 92 - Thailand 0 (1998)
Sorry, Bulgarian women's ice hockey team. Your 82-0 loss to Slovakia does not earn you the crown of biggest losers in the history of international hockey.
That honor belongs to Thailand, who got a stunning beat-down in the Asia-Oceania Junior Championships in 1998.
Forward Donghwan Song scored a whopping 31 goals in the contest, aka ten hat tricks.