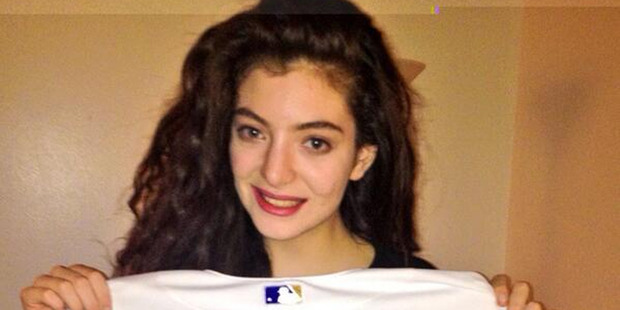 When 17 year-old Kiwi pop sensation Lorde toured Kansas City last night she made a unique connection with the city's baseball team, also known as The Royals.
It turns out Lorde's Grammy Award winning hit "Royals" was inspired by a 1976 National Geographic photo she saw of Kansas City slugger George Brett signing autographs in uniform.
That knowledge gave Lorde a handy link with the Royals organization, their fans, and of course, George Brett himself, so it should come as no surprise that prior to her first ever concert in Kansas City, she was given the Royal treatment.
.@lordemusic said the #Royals jersey she received from @GeorgeHBrett was one of the coolest things she owns! pic.twitter.com/QnjxfNnWPF

— Kansas City Royals (@Royals) March 22, 2014
The inscription inside Brett's No. 5 reads "you are Royal to me."
Unfortunately, Brett himself was not able to attend the concert at the Arvest Bank Theatre to deliver the signed jersey personally, but it seems Lorde appreciated the gift and the gesture all the same. Or maybe we should say gifts, because the Royals didn't stop with the jersey.
ICYMI, @GeorgeHBrett wasn't able to attend @lordemusic's #KC concert but he did send gifts on behalf of the #Royals! pic.twitter.com/hBC8U0LIxY

— Kansas City Royals (@Royals) March 22, 2014
The photo she's holding is the National Geographic picture that inspired her song, and that too is signed by Brett.
Other unlikely sports teams' links with pop culture:
Gerry and the Pacemakers and Liverpool
1. 'You'll Never Walk Alone' is the official anthem of Liverpool Football Club and arguably the best known 'club anthem' in the world. The song is originally from the 1945 Rodgers and Hammerstein musical 'Carousel' but was used by the club because the most famous version (in the UK) was by a band from Liverpool called Gerry and the Pacemakers. They recorded it in 1963 and Liverpool's manager at the time, Bill Shankly, loved it. The fans soon adopted it and the rest is history.
2. Red Sox and Broadway.
In 1917, Broadway producer Harry Frazee bought the Red Sox. On January 3, 1920, he made baseball's most notorious swap, sending Babe Ruth to the Yankees for $100,000 in cash and a $300,000 loan. This move started the alleged "Curse of the Bambino," a spell supposedly responsible for the sequence of calamities since then. Legend has it that he made the deal to finance the hit show No, No Nanette.
This myth has since been debunked however. At the time of the Ruth trade. the show's author, Vincent Youmans, was an unknown rehearsal pianist, and the musical had not been written. Broadway show My Lady Friends was however financed by the Ruth sale to the Yankees.