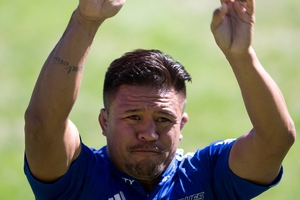 'Your option Blues skipper, scrum or lineout?
"Can we have another choice," might be the Blues' answer so far in the Super 15.
The Chiefs show it's dicey to put all your faith in rugby data or statistics as their lineout is the worst in the Super 15 yet they are undefeated at the head of the New Zealand conference.
Figures show trends that point to opponents pressuring the Chiefs hard to secure their own possession, especially when Brodie Retallick was injured.
The Chiefs make up for that difficulty with the best scrum work in the competition.
Every New Zealand side is struggling with their lineout but most have sorted out their scrums.
All except the Blues. They are third last with 80 per cent success in lineouts and bottom with a 59 per cent success rate in scrums.
The Hurricanes are second worst in the scrums yet have a strike rate well above the Blues at 75 per cent.
On the evidence of this year's Super 15 games, New Zealand teams have been perplexed and picked off by their lineout rivals while they have got their act together far more in scrums.
Set-piece failings are not just the fault of the hooker. But the men wearing the No 2 jersey are coming under greater scrutiny this season after Andrew Hore headed off into the Central Otago wilderness and Keven Mealamu struggled with repeat calf muscle problems.
Lineouts and scrums are a complex mesh of moving parts but parts of the game which the best teams simplify. They combine repeated hard work, technical precision and basic variety to claim their ball and get on with the next phase.
The hooker is a crucial element in those stages. If he is in harmony with his lineout target and lifters and leads the scrum energy, those factors go a long way towards success.
Auditions for All Black recognition remain confused.
Dane Coles has been identified as a hooker to go to the next World Cup. His Hurricanes lineout is seventh best so far this campaign and second last in scrum fortunes.
Mealamu has only had one substitute appearance this season and at 35 his future is unclear.
Former All Black hooker Corey Flynn is out with an injured eye socket but still job-sharing with Benn Funnell on the Crusaders' roster.
Last season the All Black selectors thought Liam Coltman was worth a look but then decided they wanted to see more consistent work from him in this year's Super 15.
One poor missed tackle, an intercept pass and two crooked throws last week are not terminal but mean he has a lot to do to get in the credit ledger.
Young hooker Rhys Marshall started with the Chiefs until Mahonri Schwalger was fit, with the pair leading the best scrum and worst lineout.
Making sense of all of this is a job for the All Black selectors. They will not have the solution yet but time is their friend.