Radio Sport breakfast producer and aspiring rugby referee.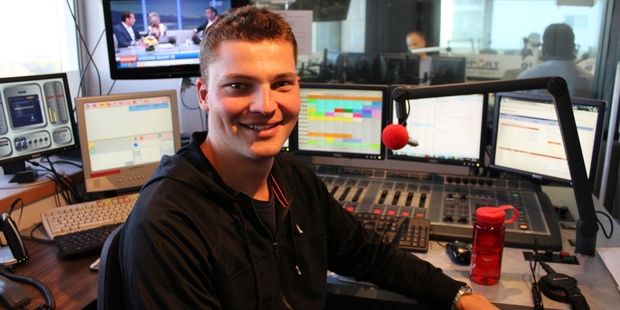 Q: Greetings Angus. You're 24, why the whistle?
People raise an eyebrow when someone younger is refereeing because it's seen as an old man's game. But I say others play rugby on a Saturday, I referee it.
Q: Sum up the breakdown in a sentence.
The players always understand the laws better ...
Q: How do you manage both jobs?
Referees with 9-5 jobs must find it tough to train. I'm lucky because Monday to Friday I'm up at 4am and the show finishes at 9am. There's a bit of work afterwards, then I kip for an hour and go to the gym to focus on the referee side of things.
Q: What role does fitness play?
There's a lot of sweat. I'm not a long distance running fan so I do high-intensity training with one weight session chucked in each week. There are a lot of 200m-400m sprints. Fitness was not something I enjoyed until the NZRU gave me an ultimatum a couple of years ago.
I had to hit certain marks in the yo-yo test. If I hadn't met them, I wouldn't have made my first-class debut. Now I see fitness as part of the job, no questions asked. It helps with mental toughness as well, which you need to make decisions when you are fatigued late in the game. However, it didn't help much in my first-class debut between Thames Valley and King Country at Te Aroha in 2011. I got winded by a stray elbow and dropped to my knees, unable to blow the whistle. The ground announcer had to get the players to stop while I was in a heap.
Q: Are both jobs sustainable if you climb the refereeing ranks?
I'd probably have to cut out the breakfast show if I went professional. At present I get match fees for first-class games but not as a fourth official in Super Rugby, where I marshal replacement players.
Q: What opportunities have you had?
I made the national squad for the first time this year, so hopefully there will be a chance to referee at ITM Cup level. I've done a number of Heartland games, but the focus is club rugby. I'm off to Japan next month for the secondary schools world championship, and hopefully there will be chances as an assistant referee at the junior World Cup in June. Sometimes requests come in. Last year, I refereed both Black Ferns trials and did a session with them in camp before the England series.
Q: You must get obnoxious feedback from Radio Sport's infamous text-haters?
Not as a result of refereeing but mainly about opinions on the show. I generally laugh and think of someone dribbling in a rocking chair. It's water off a duck's back. You need that mentality as a referee, too, because you hear all sorts of things from the sideline.
Q: What's the reaction like refereeing at Heartland level?
When people come up afterwards I assume they want to have a crack about my refereeing, but generally they just want to know about Radio Sport.
Q: Who are the best debaters away from the microphone?
Mark Watson's probably best. Kent Johns is good too; he speaks a lot of common sense.
Q: How did you get a job at Radio Sport?
I became an addicted listener and even rang up a couple of times. Then, while I was doing my communications degree, I started volunteering on Friday nights. That was the best decision I made. I learnt a lot of the technical skills with putting live commentaries to air.