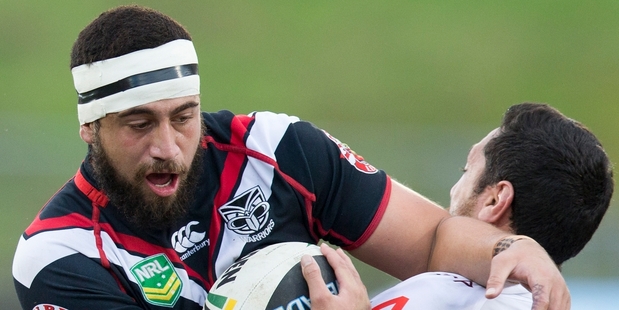 I can accept a team losing but only if they do everything possible to win games - the Warriors have not done everything they can so far this season.
It's often said desperate times call for desperate measures and that's the mentality the players need to take into tomorrow night's match against the Cowboys. It's been sadly lacking so far.
There are plenty of reasons for other teams not to perform but they often rise above it. The Roosters, for instance, had 15 players involved in the World Cup but they bounced back from an ordinary opening game to thrash the Eels in their second outing.
The Dragons should be struggling after a high turnover of players but they have shown the sort of attitude needed in a tough situation and are now sitting on top of the table.
Manly were missing two of their best players last weekend - the Stewart brothers - but Jason King took it upon himself to muscle up to the Burgess boys.
That's the same Jason King who has missed the best part of 18 months through injury. He was prepared to put his body on the line for his team because they needed that out of him.
I don't see that sort of desperation in the Warriors and they have no excuses for making a slow start. They had a good pre-season, bought well and had few injuries. No excuses.
Ben Matulino has been the team's best but even he could show more aggression on defence.
Sometimes I think the game is so structured and players are taught to play with such control that the raw aggression is coached out of them and players forget the essence of the game. When it comes down to it, league is about who runs the hardest and who tackles the hardest and the Warriors have failed in that task.
I remember Phil Gould once asking players, "did you play better than the opposition?" What he meant was, as an individual, were you better than your direct opposite? If you could say, yes, then you had done your job.
How many of the Warriors would be able to answer yes over the past two weeks?
They could take a lead from captain Simon Mannering, whose workrate and attitude is exceptional and I put him up there with the best players in the competition. He does things off the ball that are rarely seen but can make a big difference. Last weekend he desperately chased a kick from Gareth Widdop and caught the ball-carrier in the corner. Sadly, few are backing him up.
Sometimes all it takes is for one player to do something special, someone to put his body on the line and dump a player on their backside. It happened in the Penrith game last weekend and that energy was infectious in the Panthers side.
The return of Thomas Leuluai can't come soon enough because he is determined, strong and organised. It will take time for him to get back to speed after such a long time off but I think his combination with Sam Tomkins, who he played with at Wigan, could be critical to the Warriors finding their rhythm.
I said at the start of the season the Warriors were definites for the top eight and contenders for the top four. I still believe that, but they have to prove it to their supporters.