New Zealand can be a world T20 contender, despite warmup defeats this week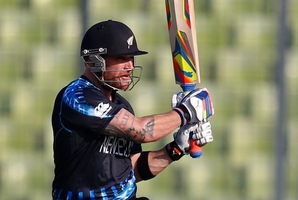 One major global title seems a meagre return over 39 years of competition for New Zealand.
And, even that one, the ICC Knockout crown - which morphed into the Champions Trophy - won in Kenya in 2000 was an odd affair. New Zealand won three games on the bounce, against Zimbabwe, Pakistan and India and, hey presto, they had a trophy for the cabinet.
However New Zealand will go back to the ICC well in Bangladesh early on Sunday in its latest bid for another piece of silverward, starting in Chittagong. Their chances are, as always, quite good. Then again, New Zealand have form for flattering to deceive. This is a version in which New Zealand have made the semifinals just once at four attempts, in the inaugural tournament in September 2007.
Yes, it does count, even if it's 'only' T20, and this is the fifth edition in less than seven years. Whatever happened to quadrennial world events? Evidently the thirst is still strong.
But there is a sense, after events over the summer months, that this tournament, this type of cricket, has come at the wrong time for New Zealand. Brendon McCullum's team may well throw this idea to the wind.
But it is easy to figure after their test and ODI success against the West Indies and India that New Zealand would rather be doing something like playing a test series in the Caribbean - which is their next international assignment in May - than pitching up to a part of the world they've invariably found difficult.
Both official warm-up games were lost in last-over finishes, to Pakistan and, yesterday, Australia. Those games were designed for teams to try and bed in players and strategies for the tournament proper, which starts early tomorrow with India playing Pakistan in a high-octane opener.
New Zealand's batting flexed its muscles against Australia, chiefly through Martin Guptill's 62 off 34 balls and McCullum's 37 off 18.
However, chasing 201 to win, New Zealand came up four runs shy, a result which can be sheeted back to the bowlers. Not many games will be won by sides who spot a double century to their opponents in conditions likely to favour slow bowlers, particularly in the second innings.
Apart from Kyle Mills and Anton Devcich, there was little in New Zealand's bowling to commend it. In three successive overs from spinners Kane Williamson and Ronnie Hira and seamer Jimmy Neesham, Australia's openers, Aaron Finch and David Warner, clobbered 67 runs. They plundered 44 in nine balls at one point. Warm-up or no, this doesn't bode well.
New Zealand open against England early on Sunday. England's build-up has been poor and they don't look much chop. They did win the 2010 edition in the Caribbean, but had a better outfit then than the current side.
Among the distinctive features of T20 is that a game can be won by a burst of solitary inspiration; an incisive 4-over burst; or a half century at breakneck speed.
New Zealand have players capable of that, as have most of the other heavyweights. So how much should be taken from the warm-ups? Some, but there's no point getting hung up on them.
It would be wrong to treat the event with too much gravitas. It should be fun, and yet still have plenty at stake.
The real show starts tomorrow. Twenty three games in 16 days. Suitably rapid for cricket's fastest-paced game.