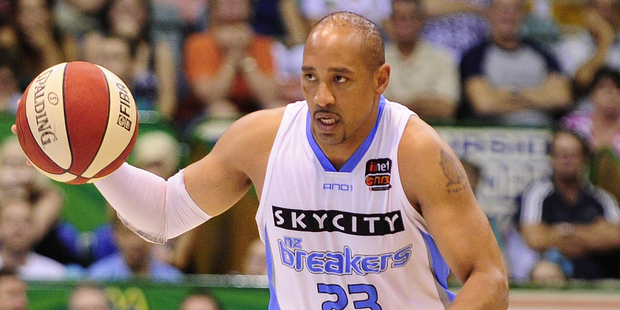 After 20 years and six Australian NBL titles, CJ Bruton plays his final game for the Breakers at Vector Arena tomorrow night. He recalls in his own words the numbers that marked his glittering career.
7 - First basketball memory
When I was seven, any time Dad (Calvin Bruton, Sr.) was playing, we'd go as a family, wish him luck, and when he went in the locker room we'd go to the back court and get some shots up. Eventually they'd shuffle everyone into the stands but, as soon as the game started, I'd tell my mum I had to go to the toilet. I hardly watched my dad play in the early years - I was too busy shooting at the toilet sign. That was my bucket and, with my imagination, I'd play against my dad and whoever he was playing with. I'd throw jump hooks, work on my lay-ups, and if I hit the toilet sign it was a bucket. They were great memories and helped me to the point that, when I played my first game, I felt comfortable because I'd played it all in my head.
3 - The first three-pointer of many
My first game (for Perth in 1994), I came on close to the end of the first quarter and I fouled Darryl Pearce on a three-point shot. The Iceman, as smooth as silk, just knocked down all three. I knew I had to make up for it really quick, otherwise I might not hit the floor again. The next play, it was almost the end of the quarter. I dribbled down, got between the three-point line and half-court and let it fly. It went in off the backboard. I just kept running towards the bench and everyone was up and celebrating. I couldn't celebrate - I just thought, at least I made the shot and hopefully coach doesn't bench me for what I did wrong. He let me start the next quarter.
1 - The maiden championship with Sydney
It was the fifth game of the series and everyone was out of gas. Everyone was running up and down on their last legs, just hoping someone would miss a shot. Down the stretch, [West Sydney] got in front and it felt like I had nothing left. Then Ebi Ere, the import from Oklahoma, went down and made three straight shots and started clapping. And that clap meant we were ready to go. We closed the game out, drew fouls and made our foul shots. When that final buzzer went it was like magic. I went to my dad, hugged him, and gave him the ring.
2000 - Up-and-down crowds at beginning with Breakers
I just thought we were talented, we had threats everywhere and we could score 110 points every game. People would say to me, 'Why are you going to the Breakers?' But with [Andrej Lemanis] and Tony Ronaldson, they put a lot of things in place before I got here. Once we started shocking teams and we were in first or second, they realised we were a force to be reckoned with. But the first year was still rough. We dropped really quickly and, when we collapsed, I remember going from sell out crowds to seeing like 2000 people.
4 - Fourth championship, first with Breakers
Before we ran out on the floor, I looked at the boys and told them how special it was to play in big moments like that. I said, 'Right now, I'm proud to go with my brothers to war. This is going to be one of the moments we'll remember for a lifetime'. All the players I've won a title with, when we walk out on the floor, I tap twice. When we have double-claps, it means we've gone through the war and we have that special bond.
6 - Sixth ring and rivalry with Perth
After we got dropped by Perth in the first game that season, I remember being written off and people saying it was over. As we rolled on, we lost to them again, then we lost to them in Perth. But when it counted, when it came finals time, I knew we would beat them. We'd seen each other so much and it was physical - on the court, it was as rough as it was going to get. We had the ring and they were coming for it but, when it counted, we were right there, we looked them in the eyes and said, 'Bring it'. For our club, what it meant, what we were going for, who we had to go through - it was special.
516 - The final appearance in the ANBL
I just hope the fans enjoy themselves and appreciate what I've done, even those watching at home on TV. There's been a lot of messages and letters coming to the club and it's been very special to hear what I've meant to the club. For me, it's been a blessing. From meeting (owners) Paul and Liz (Blackwell), to the organisation, to playing in front of sell-outs. I've envisaged playing in front of sell-outs since my dad was able to do that with the Wildcats. He did it for a club - I get to go do it for a country.
- APNZ