Greenstone carving commissioned in 1999 for Auckland yacht racing up for auction.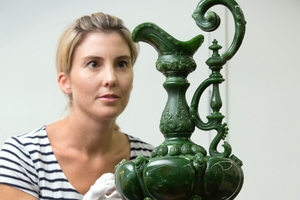 While $36 million of taxpayers' money may not have secured the America's Cup for New Zealand, a greenstone replica can be yours for a cut-price $70,000.
Te Ha o Aotearoa, a 7/8th scale replica of the cup made from solid Kahurangi pounamu, will go up for auction in Auckland at the end of the month.
The artwork, which weighs 36kg, was commissioned in 1999 by Auckland company Creativision, which had a licence to produce greenstone America's Cup products for that summer's regatta, held in Auckland.
It was made by Hokitika's Mountain Jade Company, with principal carvers Ross Crump and Bevan Climo and polisher Brant Travis completing the bulk of the work.
After the competition the ownership was passed to three Creativision investors who originally tried to sell it for $200,000.
But after years of touring around the country - including as part of an exhibition at Wellington's Te Papa - it hasn't sold.
The replica cup will go up for auction for the first time at Auckland auction house Dunbar Sloane on March 28.
Dunbar Sloane snr has put a lower estimation - between $50,000 and $70,000 - on the piece in a bid to attract buyers.
"I said look, 'I'll do it for you but I don't want your stupid reserves on it'," he said.
"I have to make it work by putting a very fair low price on it so somebody will say 'wow'."
Set on a wooden base of native kauri timber, the original pounamu boulder was excavated from Big Bay, South Westland.
Mr Sloane was expecting a lot of interest in the piece.
"It's a fantastic object, beautifully done. It's probably two years of work."
He has emailed Team New Zealand skipper Dean Barker and Oracle owner Larry Ellison - the current holder of the America's Cup - in a bid to drum up interest.
He hasn't heard back from either but was hoping word of its sale had got around.
"I sent one to Dean Barker because he may know someone in the yachting circle who will think 'God, this is wonderful.
"'This is a cup we can keep forever, we don't have to give it back after we lose'," Mr Sloane said.