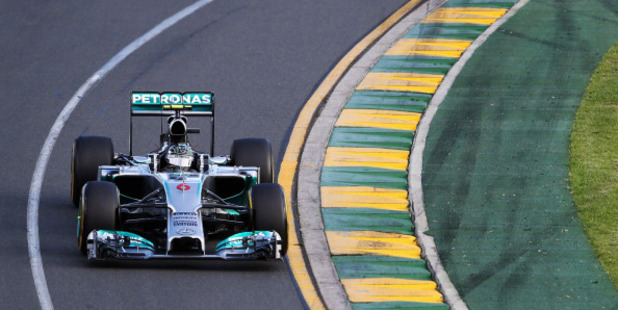 German Nico Rosberg triumphed in a dramatic Australian grand prix, with local hope Daniel Ricciardo delighting home fans with a second-placed finish in his Red Bull Racing debut.
Denmark's Kevin Magnussen came third in Sunday's Formula One season-opener which claimed early victims in pole-sitter Lewis Hamilton and reigning world champion Sebastian Vettel.
Hamilton was forced to retire his Mercedes after just four laps of Melbourne's Albert Park circuit because of a misfiring cylinder.
"We knew coming in that reliability would be an issue,'' Hamilton told reporters.
"Of course it is always a surprise when it does happen because we have done everything we can possible do to avoid this kind of thing.''
And four-time world champ Vettel's title defence was disastrous, with mechanical troubles in his Red Bull Racing car forcing him to quit after five laps.
But the decorated duo got further than Felipe Massa, whose Williams car was tail-ended by Caterham's Kamui Kobayashi at a furious first turn in a crash which forced both to retire.
Kobayashi admitted his fault in an incident to be investigated by officials post-race.
Rosberg had no such worries. From third on the grid, he got a shooting start and grabbed the lead by the first turn - and was never seriously challenged thereafter.
Ricciardo, the 24-year-old West Australian on debut for reigning world constructors' champions Red Bull Racing, held his starting second position at the turn as Hamilton slipped.
Ricciardo held that status until the 37th lap when a pit-stop enabled Denmark's Magnussen to take second spot - but the McLaren driver pitted on the next lap, and Ricciardo returned to second.
Magnussen, in his first grand prix, then sat on the Australian's tail for the remaining laps.
But both failed to make any ground on Rosberg, who steadily increased his lead to win by 24.5 second from Ricciardo, who was finished 2.2 seconds ahead of Magnussen.
Rosberg joined his father Keke as Australian grand prix winners - Keke won the 1985 race in Adelaide.
- AAP