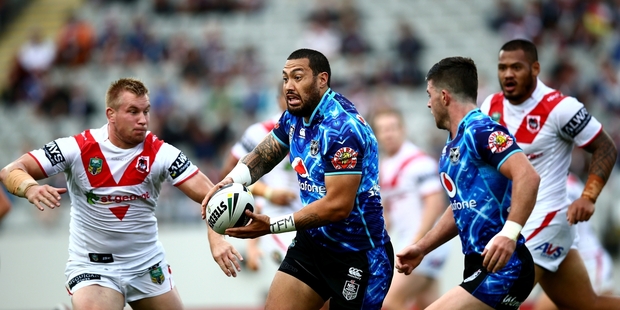 There have been many things said about the Warriors throughout history, some of them true and others less so, but they need to go some way to proving they have a big, tough and uncompromising forward pack on the evidence of the first two games this season.
They possess some very good forwards, many of them internationals, but they're not playing as a unit and they're not dominating their opposition. They lacked physicality against the Eels and intensity against a relatively small Dragons pack.
It was telling that the visitors controlled the ruck speed yesterday and went on to claim a deserved 31-12 win at Eden Park.
The backs certainly haven't helped matters, and the fringes were dreadful against Parramatta, but it's often said games are usually won and lost up front.
"This is a team that should never be out-muscled and that's what feels like is happening," Warriors prop Jacob Lillyman said.
"I think we were down a bit on intent. Our defence, we weren't winning that physical battle. It felt like they were rolling through us a bit, which is disappointing. It was there to be won but we didn't deserve it in the end.
"Our physical intent in the tackle was below par. We were on the back foot. A few of their tries could have been avoided."
Lillyman is one player who has emerged with pass marks from the first two weeks. He's amassed more than 120m in both games and at least run with purpose.
Ben Matulino, who achieved 135m, two tackle breaks and four offloads yesterday, is another but they are rare, rare bright spots.
"We have to turn it around," Lillyman said.
"We are notoriously slow starters and we had a big emphasis on starting well [this season] but it hasn't happened that way, unfortunately. We have a test for us next week coming up against the Cowboys."
That game was seen as the most difficult in what was a relatively kind opening to the season. Four of their first six were against teams who finished in the bottom three last season and they avoided any of the Big Four (Roosters, Rabbitohs, Storm, Sea Eagles) in the first six weeks.
The Warriors' slow starts to seasons has often been the difference between making the playoffs and not, and they talked at length about the problem leading into this campaign. It doesn't seem to have resonated.
"We have a lot of work on that (the mental side)," coach Matt Elliott said. "We really have. From a fair distance out, believe it or not, on these first six games being a real key for us. This was our first home game. Last week was a disappointment and this one matches that."
- APNZ