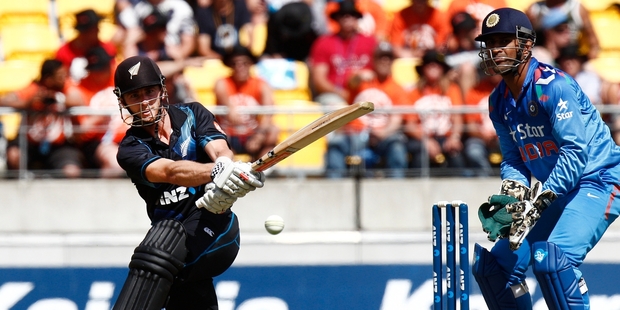 New Zealand arrived in Bangladesh yesterday confident pieces of their world T20 puzzle are falling into place.
One box ticked appears to be the identity of Martin Guptill's opening partner. Anton Devcich was a candidate but his Northern Districts team mate Kane Williamson seems to have been given first dibs on the role vacated through ill-discipline by Jesse Ryder.
Coach Mike Hesson confirmed yesterday that Williamson has the skills to do the job, and his offspin is an important extra cog in the bowling department.
"With Kane's ability - and he's bowling really nicely at the moment - it gives us a pretty good mix, and there's his ability to play spin," Hesson said.
"I think we're going to face a lot of spin opening up against us and his ability to access different parts of the field should complement Martin quite nicely."
Assuming Williamson plays in the tournament opener against England, it will be his 14th T20 international, and first since September 2012.
He fell out of favour for a time, and even as late as the naming of the T20 squad to play the West Indies early in January, national selection manager Bruce Edgar admitted tests and ODIs were where the selectors saw Williamson's best value for New Zealand.
The selectors, Edgar and Hesson, were "less inclined" to include him in their T20 plans.
However, his importance to the side, as an outstanding fielder, distinctly handy spinner and batsman with an improving strike rate, meant he had to be in the touring 15.
New Zealand are not a team who necessarily want an opener batting through the 20 overs - unlike, say Chris Gayle for the West Indies or David Warner for Australia - as Hesson put it "soaking up the balls", given their considerable middle order firepower. "Both Kane and Martin are able to score at a good strike rate playing quite differently. With a lot of power to follow they can set us up nicely and give us a good opportunity to unleash that power later on."
New Zealand had two practice games in Abu Dhabi, against English counties Worcestershire and Derbyshire.
The young Worcestershire were rolled for 52 but Derby provided decent opposition, New Zealand making 177 for five - Guptill hitting 51, Williamson and Luke Ronchi thirties - and Derby 152 for six.
There are two official warmup games next week, against Pakistan and Australia.
Hesson said as the Pakistani game was understood to be televised New Zealand would likely play a straight XI, but against Australia, who are keen to use all 15 players, New Zealand might use 12.
However, Hesson is keen all players get a run.
There would be no locking in of a first XI at this stage.
"We've still got a couple of things to nail out, certainly in the bowling department.
"Depending on conditions we might need to go in with another spinner and it's not likely we'd use just 11 through the tournament, so we have to make sure all 15 are good to go."
Auckland, reeling from back-to-back defeats and having lost their top spot on the Ford Trophy ladder, face Canterbury at Eden Park's outer oval today - cyclone permitting.
Former test opener Tim McIntosh returns to the 12 in place of Jeet Raval.
Losses to Northern Districts and Central Districts have dropped Auckland to fourth on the table.
In other fifth round games tomorrow, Central Districts play Northern Districts in New Plymouth, while Otago host Wellington in Dunedin.
Auckland team to play Canterbury: Gareth Hopkins (c), Anaru Kitchen, Tim McIntosh, Craig Cachopa, Colin de Grandhomme, Robbie O'Donnell, Jono Sole, Donovan Grobbelaar, Michael Bates, Matt Quinn, Bhupinder Singh, Tipene Friday.