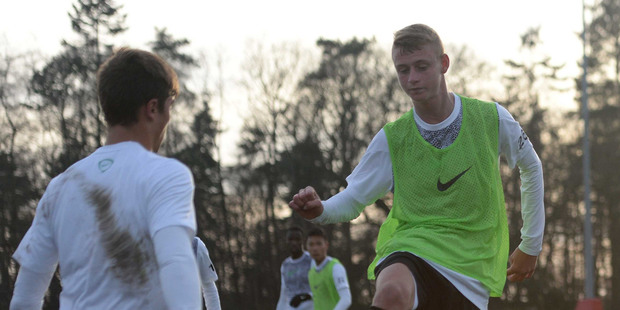 Kiwi Dylan Burns has been selected to join the elite Nike Academy after a worldwide search for the best young football talent.
The 17-year-old tomorrow plays for Auckland City in the ASB Youth League final but, unlike his teammates, he won't be turning his attention to secondary school soccer following the final.
Instead, Burns heads to England next week where he will spend the next three months playing against top professional clubs while under the watchful gaze of European scouts.
The Nike Academy is a full-time, pro-level training programme based at St George's Park, the national football centre of the English FA. Its goal is to mould talented but raw teenagers into professional prospects, with 20 graduates from the last three seasons earning pro contracts.
After first emerging on top from a New Zealand trial of 50 players, Burns then competed at the final showcase in England, where the holding midfielder was one of five players picked to join the academy out of a group of 43 from 33 different countries.
"I thought I did quite well,'' he said. "The conditions were tough, but I thought I did really well, to be honest. When I won it was kind of a shock because it was quite a big deal.''
Since its inception in 2009, Nike Academy sides have been tested in games against academies from the likes of European powerhouses Barcelona and Paris Saint-Germain. Among the recent graduates is Australian Tom Rogic, who is now on loan at Melbourne Victory after signing for Scottish giants Celtic.
Burns was in no doubt of his goal at the end of the three-month stint in the English Midlands, though he was well aware of the tough test that awaits.
"Ever since I started playing football at five I've been dreaming of becoming a professional footballer,'' said the Westlake Boys High student. ``It will be a challenge, because you stay by yourself in a little apartment.
"They provide everything for you, like all you gear and food and things. But it's just going to be different, being away from family and friends.''
That includes his teammates in tomorrow's Youth League final against Nelson-Marlborough, where Burns hopes to be sent away to England with a win. But that was nothing compared to his hopes from the Nike Academy, where the Liverpool fan was aiming to impress scouts from his boyhood club.
"That's the dream,'' he said.
- APNZ