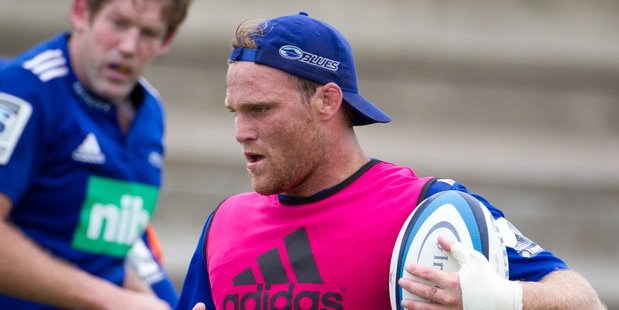 If Blues coach John Kirwan wants to present his team with a role model as they seek to get something tangible out of their South African trip, he need look no further than captain Luke Braid.
The openside flanker has been a standout in all sorts of areas, his big numbers in several statistical cate-gories suggesting an extremely high work-rate combined with skill and subtlety. Braid is proving that his leadership role, something that impacted negatively on his game during the latter part of Pat Lam's reign, is suiting him rather well this season.
Jack Lam has rightly won plaudits at the Hurricanes for his workrate and ability to win turnovers, but Braid, who has had similar game time, has carried the ball almost twice as often as Lam and has been extremely hard to stop. According to the Herald Rugby Stats Centre, Braid has beaten eight defenders and has made six offloads - both category-leading statistics - and all this combined with his 43 tackles.
Braid is sixth on the list of top tacklers in the competition and the best New Zealander.
He is equal second behind Waratahs fullback Israel Folau as the competition's best offloader, and the best Kiwi in terms of clean breaks.
Lions loose forwards Warren Whiteley, Jaco Kriel and Warren Tecklenberg have also posted impressive numbers. In four full matches, Whiteley has made 50 tackles.
As far as the other New Zealand No7s are concerned, Crusader Matt Todd has been an impressive ball carrier and Highlander Shane Christie has made 25 tackles in 105 minutes. The statistics show that All Blacks skipper Richie McCaw, now out with a broken left thumb, had made a slow start to the season before his injury.
While Kirwan will be happy with Braid's contributions, he might be less impressed with elements of halfback Piri Weepu's play. Weepu gave away five penalties against the Bulls last weekend, although he was the victim of some inconsistent ruling of scrum feeds by referee Andrew Lees.
Seven heaven - opensides (80 min or more)
Luke Braid (Blues): Minutes: 234; Carries 30; Average gain: 3.63m; Defenders beaten: 8; Offloads: 6; Tackles: 43; Missed tackles: 1; Turnovers: 1.
Jack Lam (Hurricanes): Minutes: 240; Carries: 16; Average gain: 3.13m; Defenders beaten: 1; Offloads: 0; Tackles: 29; Missed tackles: 2. Turnovers: 8.
Matt Todd (Crusaders): Minutes: 145; Carries: 17; Average gain: 5.59m; Defenders beaten: 2; Offloads: 1; Tackles: 20; Missed tackles: 3. Turnovers: 3.
Richie McCaw (Crusaders): Minutes: 120; Carries: 14; Average gain: 1.86m; Defenders beaten: 1; Offloads: 1; Tackles: 13; Missed tackles: 3. Turnovers: 2.
Shane Christie (Highlanders): Minutes: 105; Carries: 5; Average gain: 1.8m; Defenders beaten: 0: Offloads: 0; Tackles: 25; Missed tackles: 3. Turnovers: 2.
Tanerau Latimer (Chiefs): Minutes: 80; Carries: 11; Average gain: 2.27m; Defenders beaten: 1; Offloads: 0; Tackles: 8; Missed tackles; 0. Turnovers: 2.
- APNZ