Bary reckons Miss Selby will handle track but it might pay to include southern filly.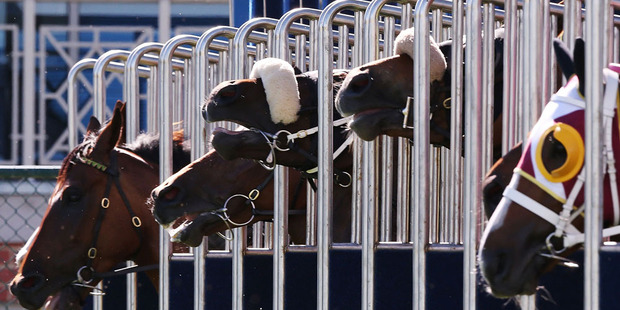 There is one important factor involving all races at Te Rapa and Trentham tomorrow - the weather.
Forecasters - not race fans' greatest mates - tell us the storm rain will hit Te Rapa from midnight tonight or tomorrow morning.
They are now telling us Wellington will have "rain developing" tomorrow. Exactly what that means will be critical to punters chasing the winners of the Wellfield NZ Oaks and the St Leger as well as a $500,000 Triple Trio.
Will it arrive before the Oaks at 4.46pm, or the start of the Triple Trio races at 4.11pm?
If so, a real change of thinking is required.
The reactions of the trainers of the three leading chances to the prospect of rain, John Bary (Miss Selby), Tony Pike (Rock Diva) and Stephen McKee with Moozoon are interesting.
Bary said he's unconcerned, Pike says he's unsure and McKee said he would be worried.
None of the fillies, with the exception of southerner Include, has won on slow or heavy footing.
"Miss Selby won a Foxton barrier trial on a slow or heavy surface coming out of last winter," said John Bary. "She handled that well and I'm not worried about rain."
Pike is keeping an open mind. "I don't really know how she'd cope with a wet track, she's never been pressured on anything other than reasonable footing."
McKee is hoping for the best. "If it started raining before lunchtime and then they galloped on it I'd be worried about my filly."
If this race was at 1600m Moozoon and Miss Selby might start close to equal favourites. At 2400m, Rock Diva is the one who comes right into calculations and John Bary is confident Miss Selby will see out the extra distance.
"My filly is in uncharted waters," said McKee. "She didn't get the best of runs in the Sunline Vase at 2100m because she didn't get the best run from an outside barrier, so I've got an open mind about the 2400m.
"Rock Diva Looks like the one who is going to be very well suited to the distance and I've been impressed watching Include winning three of her last four starts down south."
Interestingly, Include, winner of five of seven starts, has not raced beyond 1600m and does not appear to have a female pedigree steeped in stamina.
"That's not always necessary," says McKee. "When we won the Oaks with Solveig, she hadn't run past 1600m, in fact, she ran 1600m two days before on the first day of the meeting when the Oaks was run in January.
"I know Solveig was very good, but it shows it can be done."
Miss Shelby's dam Singing Star won the 2400m Waikato Cup for Jim Gibbs, so the favourite should have no problem with the distance.
"We deliberately missed the stakes races at Ellerslie and Te Rapa to aim her at this race and she will peak on Saturday," said Bary.
Rock Diva was particularly strong late in the Sunline Vase and Tony Pike believes the filly has gone forward since then. "She hasn't had the racing some of the fillies have had and might have the freshest legs."
This is a fascinating contest in which rain may have the last say.
$300,000 Oaks
* Will rain from the approaching storm arrive in time to decimate the group one event?
* The one trainer least worried about that is John Bary, who produces the favourite Miss Selby.
* The 2400m will not be a problem for Miss Selby and Rock Diva.