Grumblings about Hammett growing as team prepare to face Cheetahs.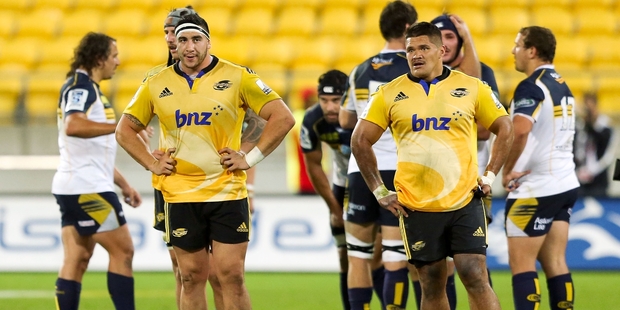 You don't need to put your ear close to the ground in Wellington to hear the grumblings.
The slow-starting Hurricanes have dropped to 0-3 and the knives are out for coach Mark Hammett who is in his fourth year in charge in the capital.
Social media and fan forums indicate people have grown tired of the broken promises about the long-awaited Hurricanes' turnaround .
Former coach Colin Cooper was no miracle worker but at least he took the side to the Super Rugby playoffs, something which Hammett has failed to do.
The former Crusaders assistant infamously cleared the so-called bad apples out of Hurricanes country in 2011 and has stamped his own mark on the side in the past couple of seasons. The problem is, Hammett has only led the team to mid-table finishes, while Hurricanes fans have had to watch their homegrown talent achieve noted success in other jerseys.
Last Friday's 29-21 loss to the Brumbies in Wellington was viewed as a disaster and was followed by robust discussions on Monday.
"The coaches really put it on the players and a lot of bullets were shot, which was good," hooker Dane Coles said. "The players really needed that so we have taken those learnings on and we've worked hard this week... but we can't train like Tarzan and play like Jane."
It's never fair to put an entire campaign down to one game but it's hard to think of a more important contest during Hammett's tenure than tomorrow's fixture against the Cheetahs at the Cake Tin.
The game has a fan-friendly 4.35pm kick-off, captain Conrad Smith will make his 100th appearance for the franchise and it will be a good indication of whether the public still have faith in Hammett's ability.
Just 8096 people attended last week - considering it was the first home game of the season on a fine evening that figure was shocking.
The Hurricanes got their best crowd of the season when 15,103 people turned up for a 4.35pm kickoff against the hapless Southern Kings.
Hurricanes chief executive James Te Puni said on Radio Sport during the week that the franchise had unwavering faith in Hammett and his assistant Alama Ieremia and the pair would see out their contracts to season's end regardless of results.
It was a ringing endorsement and one that Hammett needed to hear, and while the players have said all the right things about being behind their coaches there's only so many times you can lose before something gives.
"It is desperate times and we know this game has its pressures," Hammett said. "All of life has pressures, whether it's your relationship, job; for us it's this game. I'm confident in what we are doing and I'm confident in the guys we've got out there playing, but of course there's pressure."
There has been improved marketing and ticket specials on to entice the punters, but ultimately winning is what brings in fans. If the Hurricanes go down again that rumbling sound will only get louder.