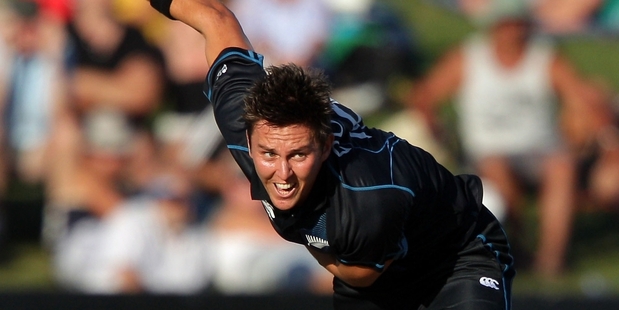 As befitting a young man in a hurry, Trent Boult wants to play as much cricket for New Zealand as he can.
And yet he's up front about where his priority lies. Test cricket is where he's most comfortable, not to mention he's coming off a remarkably successful season.
He's taken 82 wickets in 22 tests at 26.59 - 30 at just 19.2 in his last five tests against the West Indies and India. Those figures have shot him up to No 7 on the world rankings.
"It's not high on my list, to be honest," Boult said of the challenge of becoming a regular across all three formats, starting at next week's world T20 tournament in Bangladesh.
"Obviously I want to be playing as much cricket as I can and get the most out of my career. I love test cricket, that's where my ambitions lie but to get opportunities like this couldn't be better. I've never been to a World Cup so it's going to be a good experience."
He's determined to fight his way into the first choice T20 XI but knows it won't be easy. The Northern Districts left armer has been an unwanted limited-overs asset for New Zealand since last February, when he played the last of his eight ODIs, against England.
Boult, 24, would need to elbow aside one of Tim Southee, New Zealand's most consistent bowler of the summer, experienced Kyle Mills, who ranks among the country's best seamers in the shorter forms, or Mitchell McClenaghan, the country's T20 bowler of the year - and that's assuming New Zealand go in with three frontline seamers in anticipated spin-friendly conditions.
Last year, coach Mike Hesson said one of Boult's issues was controlling the amount of swing a white ball produces versus the red ball, which at times he had on a string against the West Indies and India.
"I'm relatively inexperienced in the white ball format, not just internationally but domestically. It does swing more. In Bangladesh it swings, it's humid and that's conditions you want. The challenge is to control it."
Auckland look to maintain their lead in the Ford Trophy when they play Central Districts in the fourth round at Eden Park today. Otago play Canterbury in Dunedin and Wellington host ND.