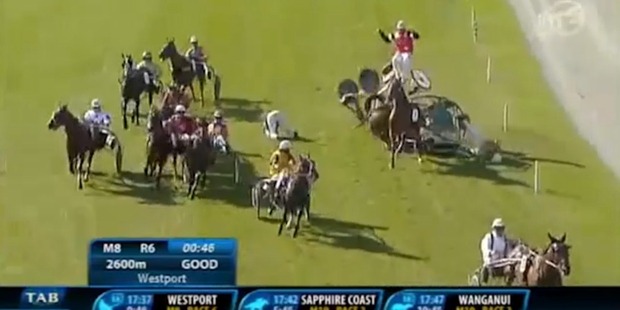 As he spiralled over three metres into the air, Canterbury harness racing driver John Dunn thought: "It's going to be a bad landing.''
Dunn, 30, was one of three drivers catapulted from their carts in a spectacular crash at the Westport Trotting Club's twilight meeting on Friday.
It happened in the front straight seconds after race six started. Leader Glencarrigh, driven by Samantha Ottley, stumbled and fell throwing Ottley off the cart. Can He Pay crashed over the top, tossing driver Murray Pash inside the running rail.
Behind them, Dunn saw Ottley go down and Pash try to swerve. Dunn also attempted to avoid the pile-up, but his horse Benio Billie was too close and went over the top.
"The horse fell and I knew I was getting slingshotted out of the cart, so I was getting ready to land on my feet. The first time I was sort of going straight forward - that's what normally happens.
"But when I was in mid-air my cart's shaft dug into the ground and slingshotted me even higher.
"That's when I lost all direction of where I was going or what was happening.''
Dunn said it felt like he was several metres in the air. "It's hard to say when you're up there, it was pretty high though.''
Did he think about coming down?
"Yeah, you sort of think quickly - `it's going to be a bad landing'. I knew I was in for a bad landing when I was on my back.''
His back hit the deck hard, but Dunn thinks he was lucky.
"It wasn't that soft. It's a grass track I know, but it was still pretty hard.''
Instinct and adrenalin kicked in, propelling him to his feet. He took a few steps towards his fallen horse, then crumpled.
"I was that badly winded I just stopped. I had to lay down and catch my breath.''
Race officials kept Benio Billie down and sedated for fear it would panic and run over Pash who remained motionless on the track.
Dunn initially thought Pash - who had been knocked out - was dead. However, he had regained consciousness by the time ambulances took him and Ottley to Buller Hospital to be checked out.
Dunn said it was fortunate the crash had happened just after the start, when horses were still spread across the track. If it had happened later, when the field was stacked up, more horses would have gone down.
Dunn drove again in race seven and fulfilled his remaining driving commitments for the day. He also drove at Reefton on Sunday.
He said getting back in the cart didn't worry him. "You just do what you got to do. If you stop and think about it, it starts to hurt.''
But he was unimpressed by not driving a winner or a placegetter at Westport.
"It was a shocking day, my worst day at Westport. It was a day not to remember.''
He has been coming to Patterson Park - his favourite track - every year since he began driving 12 years ago. Friday's crash was the most spectacular of his career. "Hopefully I never go that high again.''