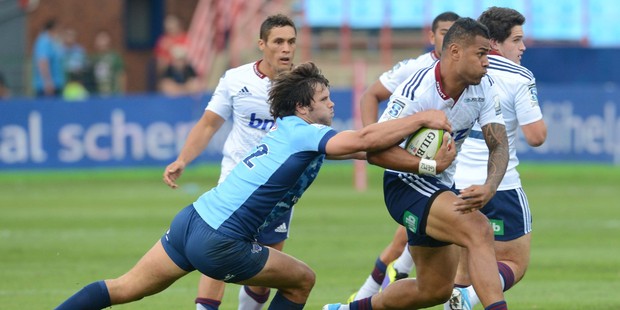 Scorecard so far for the Blues - a slump, a surge and a dip.
Consistency is not yet their forte as they wavered on the Highveld in Pretoria, teasing us they might conjure a late victory before falling 38-22 to the Bulls.
For much of the match they brought an attitude which kept them in the contest but then there were the lapses, the "soft" moments when they shelled points too easily.


Two converted Bulls tries came into that category and their bonus point touchdown on fulltime was a very "whiffy" interpretation from referee Andrew Lees.
Five-eighths Jacques Louis Potgeiter ran past several hesitant defenders on a sliding run to take advantage of an early tighthead and No 8 Jono Ross grabbed an unprotected ball at the back of a Blues ruck to stroll in for another gift try.
Those concessions were too great for the Blues to repair against a stoic home defensive line on a sticky Loftus Versfeld surface .
The Bulls missed 16 tackles and made 116 in the match as they found a renewed lift in their game, while the Blues were broken 22 times and completed 102 defensive hits.
The Blues brought their spirit and strength of character to the match, there was no quit in their work but there were flaws in their systems, technique or communication.
Progress was often sideways, rather than direct, because the Bulls did not yield the advantage line as easily as their guests.
It was remarkable heading into the last 15 minutes that the Blues, on the back of Simon Hickey's continued solidity in general play and goalkicking, were only a converted try shy of the lead.However, a penalty for a foot-up tackle against Piri Weepu gave Potgeiter another chance to widen the lead and flatten the Blues' chances.
Their performance graph has fluctuated a great deal in just three matches this year. They were flat against the Highlanders, porous and destructive against the Crusaders and now valiant, yet flaky, against the Bulls.
In their three matches, the Blues have scored eight tries, which rates near the top of the table, but they are the worst New Zealand side and third from last in their defensive work after conceding 11 tries.
That portfolio is the shared responsibility of coaches Graham Henry and Grant Doorey with their next task against the Lions in Johannesburg.
Other trends show the Blues carry as much firepower as any side with their clean breaks and attacking metres well up the list. They are also very effective at rucks where captain Luke Braid has been impressive.
Setpiece statistics, though, are disturbing.
The Blues have claimed just 57 per cent of their scrum feeds with untidy ball and penalties for incorrect feeds biting into their work.
Lineouts are also holding the Blues back. They are running at almost 80 per cent success but with 10 teams ahead of them in that category and five of those over 90 per cent, those margins are significant.