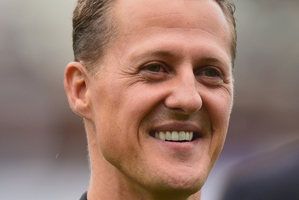 Doctors treating Michael Schumacher, and other medical experts, have told his family that "only a miracle" can save him, sources claim.
The seven-time Formula One world champion has serious brain injuries after hitting a rock during a skiing accident in the French Alpine ski resort of Meribel in late December.
He is being treated in hospital in Grenoble where he has been in an artificially induced coma for 69 days.
Sources close to his family say the 45-year-old driver's wife Corinna and his brother, Ralf Schumacher, have been consulting brain specialists throughout Europe and have been told that his chances of recovery are minimal.
The family is said to be concerned that the French doctors treating Schumacher have little hope he will recover and now assume he will remain in a vegetative state for the rest of his life.
Schumacher's management team has said doctors are gradually reducing drug levels to bring him out of his coma and that he is in a "wake up" phase.