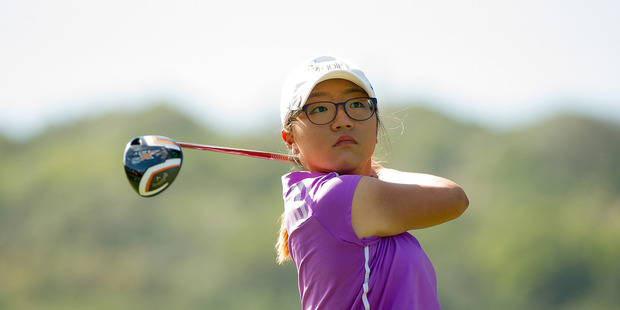 Management of Lydia Ko's schedule over the next 24 months will be vital as she continues her transition to professional golf.
Ko has achieved four top 10 finishes in her first six tournaments since she moved from the amateur ranks last October, including a win in a non-LPGA tournament in Taiwan, a runner-up finish at the New Zealand Open and third in the Australian Open.
But the workload she will face in the next two years needs to be monitored carefully, according to top former New Zealand golfer Phil Tataurangi. He understands Ko's position better than most as a highly rated amateur who turned professional after New Zealand's 1992 Eisenhower Trophy victory, where he was the top individual.
"The biggest change is in her schedule," Tataurangi told the Herald on Sunday. "So far this year, she has played five tournaments in five different countries. Most tour rookies don't have the status she has - her ranking means she is able to play in all the big tournaments. Not even Tiger Woods had the same status straight after he turned professional; he was mainly playing off sponsor exemptions when he first turned professional, until he won a tournament in his fifth event."
As an amateur, Ko competed in 14 professional events in 2013. This year, she will play more than 20, maybe up to 25, with her commitments on the LPGA tour as well as other events around the world.
"She has looked a little bit tired in the last couple of events and that is understandable," says Tataurangi. "She could prepare and be rested for each event as an amateur and now that equation has changed quite a bit. Management of her schedule will be key."
As well as an increase in playing weekends, Ko has also had to adjust to a new coaching scenario (after the decision to part ways with Guy Wilson) and a different brand of clubs. She is now based in the US and also has to do without the support networks of home.
Tataurangi talks about the "degree of innocence" as an amateur golfer which quickly disappears the moment you are playing for dollars rather than dinner vouchers.
"As an amateur, you just want to finish as high as possible," explains Tataurangi.
"You have goals and aspirations but in a different way. As a professional, there is suddenly a measurable, clear difference between finishing 10th and finishing 15th."
As well as more pressure and expectation, Ko's deal with IMG means there is also a whole host of commercial commitments around the game.
"You have to say her transition so far has been impressive," says Tataurangi. "She has won a tournament and only been outside the top 20 once [21st in her first pro event in Florida last year]."
"Everyone expects her to set the world on fire," says former New Zealand No 1 Greg Turner. "It's a big transition to make and she hasn't had a bad tournament yet. It's way too early to assess things but so far, so good ... it's been neither spectacular nor problematic."
Turner feels the change in coaching set up is probably the biggest issue she has to contend with: "In the past, when top players have changed their coach, it was often for one of two reasons. Either they wanted to make a radical alteration or modification to their game or their form had slipped. Lydia's was a different scenario; for her new team, it is a process of getting to know each other."
In her short professional career, Ko has already banked US$328,000 (about $390,000). She seems content with her progress, taking a realistic approach to what she can achieve in the rest in 2014.
"It's kind of a learning year as it's my rookie year and I haven't played the majority of the courses and I've got to learn what it's like playing on the tour," she said during the HSBC Champions in Singapore last week.
"You just can't play well every week, every day; I wish I could but that doesn't really happen. Expectations are there, but I've just got to forget about it and just concentrate on my game."
"We have to be careful with our expectations," says Turner. "Remember, even the best players of all time win only 10 to 15 per cent of the tournaments they play in. Having said that, I wouldn't be surprised if she wins one or two tournaments this year."