Southern Europe and North America are options as Super Rugby looks into adding three teams from 2016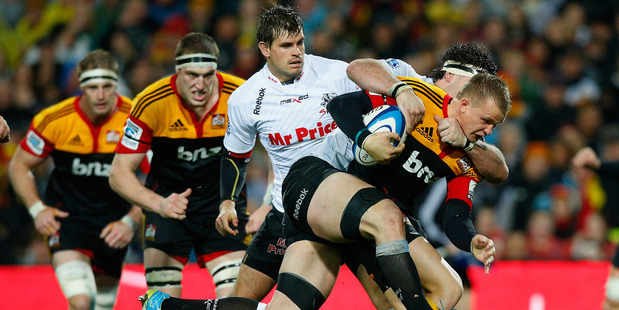 Super Rugby could be on its way to Europe as the current proposal for the new tournament now caters for 18 teams - with Spain, France and Italy thought to be possibilities to host one of the new ventures.
The Herald on Sunday understands that the proposed new format - to kick in from 2016 - is to have three new teams, one of which could be located in Southern Europe.
It is believed that Sanzar have modelled their new tournament on the NFL; they like the concept of divisions and conferences.
Sanzar recently announced their intention to award Argentina a licence to run a team and to give South Africa a sixth team.
That led to reports that the competition would involve 17 teams, with assurances being given that travelling time would be about the same as at present - though it is not yet known how that will be achieved.
But now the proposal is for 18 teams, with the 18th likely to be based broadly in the same time zone as Africa to give the 'Western Division' (South Africa and Argentina) eight teams instead of seven and to keep the 'Eastern Division' (New Zealand and Australia) at 10 teams.
The attraction of basing a new team in Europe is largely commercial. It could be financially lucrative to build Super Rugby interest in that part of the world.
Questions about ownership would have to be answered. The possibilities are broadly this:
The team could be run as a licensed franchise under the auspices of any owner.
Or the South African Rugby Union would control it and try to house the many players they already have in that part of the world.
Alternatively, all three Sanzar partners would jointly run it, given New Zealand and Australia also have significant numbers of eligible players based in Europe.
However, despite the potential European venues being in the same time zone, South African teams would have to travel 8 to 10 hours to play there. Giving South Africa a seventh team is thought to be more likely, or even seeing if North America can be introduced to the competition.
It is not known whether New Zealand teams would fly to Europe to take on the 18th team, if it is based there.
It is believed that Sanzar and its partners have an open mind to where an 18th team could be based and there will be a full tender process if agreement is reached with broadcasters about an 18-team format.
Under such a format, it is understood that New Zealand teams would play in Argentina only once every four years - with one of the five New Zealand franchises playing there each year on a rotational basis - and trips to South Africa would still only be for two games.
The proposal will see South African teams spend less time on the road in Australasia. Rather than play four games in Australasia as they currently do, trips to this part of the world will see South African teams play solely in New Zealand one year and then solely in Australia the next.
What's also becoming clear is that a ratifying agreement on whether a team from Argentina will be included is further away than Sanzar has previously indicated. The respective players' associations of the Sanzar alliance, as well as the respective national union boards, have to agree to any deal before it can be taken to the broadcasters.
While the three member unions have agreed in principal to including Argentina - and the New Zealand Rugby Union board has approved it - fundamental questions are unanswered.
The biggest unknowns are:
Where will a team in Argentina source its players, as the majority of the Pumas squad are under contract to European clubs?
Does Argentina Rugby have the financial means to lure players out of Europe and build a long-term, domestically-based talent pool?
Will the competition lack integrity having just one team in Argentina, given the time that side will have to spend playing offshore?
That last question is seen by some as the biggest gamble. There is no solution to that problem; with only one team from Argentina, they will be away from home for significant amounts of time under any proposed format.
Sanzar are looking at ways to make their time on the road less gruelling - and one idea is to find them a permanent training and accommodation base in South Africa where the bulk of their away games will be played.
Argentina rugby authorities have provided assurances that, financially, there is domestic broadcast and sponsorship interest. It is understood that ESPN is interested in bidding for rights should Argentina be included.