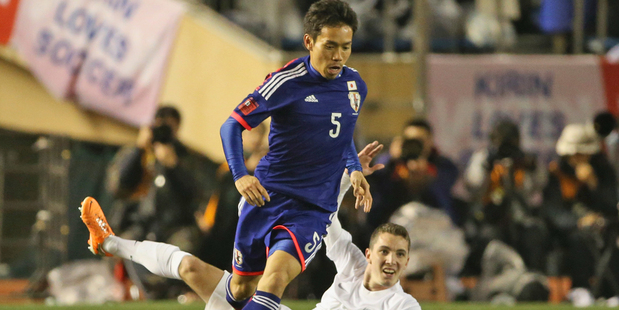 Japan 4 All Whites 2
For all the promise this young All Whites side possess, they were taught some harsh realities about international football in a 4-2 defeat to Japan in Tokyo overnight (NZT).
The final scoreline had a degree of respectability about it but the game was over as a contest inside 17 minutes as Japan took advantage of some dithering defending.
The first goal was scored as early as the fourth minute after hesitancy from left-back Bill Tuiloma and goalkeeper Glen Moss, the second came through a needless penalty, the third when Masato Morishige beat Chris Wood and Andrew Durante to a cross and the fourth when Shinji Okazaki was left alone at the far post.
Even then, Moss won't be happy with some of the goals conceded in front of 47,000 fans at the last game at Tokyo's Olympic Stadium before it's rebuilt for the 2020 Olympic Games.
The stand-in captain been in terrific form for the Wellington Phoenix of late but failed to stop an ordinary penalty attempt from Manchester United's Shinji Kagawa and the fourth goal slipped through his grasp.
Interim coach Neil Emblen had said beforehand the one thing he wanted from his side was resilience, a never-say-die attitude. That was sadly lacking in the early stages of the match and Japan's slick ball movement allowed them to get in behind New Zealand's defence down both flanks.
"I wish it had started 10 minutes into the game,'' Emblen said. "When you make mistakes, individual errors, communication mistakes and with good finishing from Japan, the game was already over.
"We haven't made Japan earn the goals, we've given them away. That was disappointing because after then we had plenty of chances of as well. We could have scored more goals as well and that was really encouraging.''
There was actually plenty to like about aspects of the All Whites' performance, particularly in the front third. Not only did they score two goals to Chris Wood but they looked composed on the ball and carved out a handful of very good chances and should have scored more against an opposition bound for this year's World Cup.
Wood scored his first from an acute angle in the 38th minute and his second came when volleyed home a Tim Payne cross in the 80th minute which briefly sparked hope of a late comeback.
The squad will be better for the experience. It could be an exciting period for All Whites football, with so many talented, young players but last night's match also showed how much they still need to improve.
There were two debutants, three teenagers, an average age of 23 and seven of the starting side had a combined 24 internationals between them. It would be wrong to suggest they're not up to international standard and dispense with them and the side was missing Winston Reid, Marco Rojas and Tommy Smith.
"For 80 minutes we were pretty competitive, scored a couple of good goals and put in a good performance in my mind,'' Emblen said.
"I didn't feel that Japan took their foot off the gas. We just played better, upped our standard a little bit and looked a little bit more organised at that was the biggest difference.''
Ryan Thomas and Tyler Boyd looked decent on debut and Wood led the line well.
This young team now need more games as they build to the next World Cup campaign. Sadly, there's nothing on the calendar and the next fixture probably won't be until September.
Kirin Challenge Cup 2014
Japan 4 (Shinji Okazaki 4', 16', Shinji Kagawa - pen 7', Masato Morishige 9',)
New Zealand 2 (Chris Wood 38', 80')
Halftime: 4-1