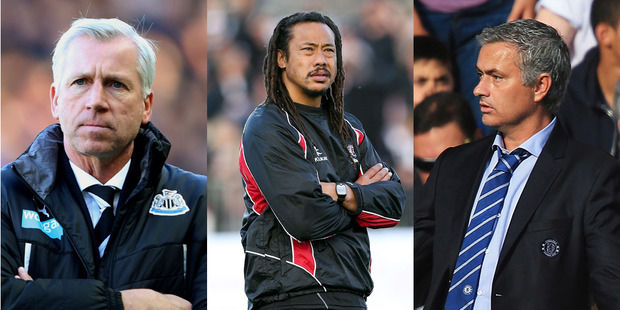 Newcastle United manager Alan Pardew was universally scorned for his touchline behaviour last weekend when the 52-year-old completely lost control of his actions.
Pardew saw fit to retaliate to a slight push by Hull's David Meyler by headbutting the midfielder, getting himself sent off in the process.
Having already been fined £100,000 (NZ$199,700) and given a formal verbal warning by his club over his latest touchline meltdown, Pardew is now facing a ban that will extend beyond the dugout and a reputation left in tatters.
But Pardew is just the latest coach to lose his marbles.
Check out our list of the top five touchline transgressors.
Jose Mourinho v 'Pito' Vilanova
In 2011, Spanish Copa de Rey game between Real Madrid and Barcelona erupted after Marcelo flew in on Cesc Fabregas and the players all came together in a mass brawl.
As the fight escalated, Real Madrid manager Jose Mourinho was seen to sidle over to Tito Vilanova, poke the Barcelona assistant coach's eye, then sidle off again.
After the game, Mourinho famously claimed he hadn't even heard of "Pito Vilanova".
Tana Umaga
Counties Manukau ITM Cup rugby coach Tana Umaga received a suspended two-match ban - which ultimately resulted in no missed games - for abusing referee Glen Jackson after his side's 22-20 loss to Auckland at Eden Park last season.
Umaga followed Jackson in the tunnel after the game to give him a serve and then entered the officials' changing room where he continued his tirade before he was eventually removed.
Umaga also made headlines following the game when he suggested Jackson only refereed one side during the contest.
Phillip Wellman
Phillip Wellman owns one of the most creative meltdowns in sports history for this performance while managing the Mississippi Braves.
Wellman added a dash of creativity to his fury which turned his rant into the stuff of legend, one against which all baseball tirades are now measured.
It was a cap-throwing, plate-covering, jaw-to-jaw screamfest that featured the uprooting of two bases, an improv act that transformed a rosin bag into a hand grenade and a dashing farewell.
Bobby Knight
The Indiana/Texas Tech coach's career was essentially a never-ending controversy, but none was crazier than his mid-game chair-hurling display during a 1985 game.
The infamous moment happened in during a game between Indiana and Purdue at IU's Assembly Hall. Knight earned a technical foul for arguing with the refs and proceeded to hurl a chair across the floor earning himself an expulsion in the process. The video shows it all.
Jim Mora
On November 25, 2001 Jim Mora gave one of the best post game press conference speeches of all time when his Indianapolis Colts lost to the San Francisco 49ers dropping their record to 4-6.
At the end of the press conference Mora responded to a question from a reporter asking about the Colts' chances for making it to the playoffs. Coach Jim replied in a rememerable, high pitched sounding voice with:
" What's that? Ah - Playoffs? Don't talk about - playoffs? You kidding me? Playoffs? I just hope we can win a game! Another game."
-nzherald.co.nz