How good Izzy? Tahs fullback yet to be tested against top sides but he's off to flyer.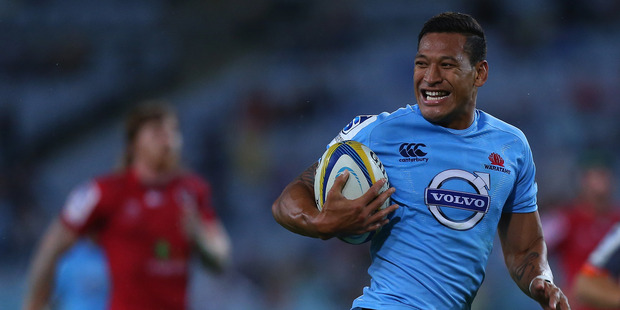 The words "McCaw" and "thumb" might be two of the most searched among New Zealand rugby fans this week, but there's another couple that should be equally taxing to All Black coach Steve Hansen and his crew - "Israel" and "Folau".
The 24-year-old Waratahs fullback has made a sensational start to the Super Rugby season and spear-headed the Waratahs to a record-breaking 32-5 win over the Reds in Sydney on Saturday night.
"I honestly didn't think he was going to be as good as he is,"
More than just his tries, Folau looks to have got his head around some of the finer points of the 15-man game. That combined with a team that is looking to get him involved whenever they can has added an extra dimension to the Folau phenomenon.
"I honestly didn't think he was going to be as good as he is," Wallaby halfback Will Genia said. "It's incredible how quickly he has picked up the game ...
and I think he can get better."
If the Wallabies can find the right formula at a level above, watch out.
Folau is trekking ahead of the three main aspirants for the No15 All Black jersey in most of the major statistical categories.
Folau's five tries have him three clear of four players, the Lions' Stefan Waterman, Jesse Mogg (Brumbies), Kurtley Beale (Waratahs) and Lachlan Turner of the Reds. The Waratahs - who have long led the league in flattering to deceive - have 10 tries in just two games, which compares pretty well to the Hurricanes, say, who have two.
Folau has been busy: his 27 carries are the fourth-highest in the competition and the three players above him - Jacques du Plessis, Willie Le Roux and Jurgen Visser - have played an extra game. He has been effective: 225 metres gained is second only to Le Roux, who has played three games.
He has been brilliant: his nine offloads easily outstrip teammate Wycliff Palu and Hurricanes halfback TJ Perenara, who have six apiece.
The other startling statistic, courtesy of Rugby Herald Stats Centre, is that Folau has kicked just once in two games. His stat-line might have been even gaudier had it not been for a yellow card.
There is a school of thought that the Waratahs and Folau have not been tested yet, having met teams from within the relatively weak Australian conference only. With a bye this week, a trip to Canberra to face the Brumbies then a home game against the Rebels, that theory will not be tested until the early hours of March 30, when the Tahs travel to meet the Sharks. Still, smashing the 2011 champion Reds should not be dismissed out of hand.
Reds halfback Genia revealed to the Courier-Mail that Folau had been the focus of plenty of pre-match planning, but that wasn't enough to change the course of the match.
"We spoke many times of how we'd invite Izzy into the game on our terms yet dumb, dinky kicks invited him in frequently on his terms," Genia said. "He'd carry the ball and get his team on the front foot. It wasn't smart footy."
If Hansen is not making notes now, he will be soon.
For more statistics visit Herald Rugby Stats Centre
How the fullbacks compare