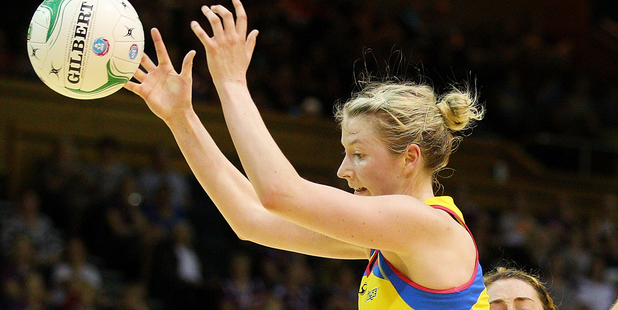 Central Pulse coach Robyn Broughton was left slightly bemused by her side's 45-44 loss to the Adelaide Thunderbirds.
Partly because she probably wondered how her team could blow the game at the Te Rauparaha Arena last night when they had a one-goal lead and possession of the ball heading in to the final minute, but more on that shortly.
She was definitely left wondering about the umpiring, which allowed for plenty of niggle during the season-opener for two sides who have realistic playoff ambitions for the 2014 instalment of the ANZ Championship.
"It was a game for the umpires really and it was really their decisions that were going to make or break the result in the long run," Broughton said after the game.
The Pulse's veteran shooting circle of Irene van Dyk and Donna Wilkins were thoroughly worked over during the contest by the abrasive defence of Thunderbirds pair Rebecca Bulley and Kate Shimmin.
"I just thought it was a very physical game of netball," Broughton said. "So it's not flowing, that sort of game, to look at, so I'm just wondering if we are seeing the skills we should be seeing."
There's always grumblings about the marking of the Australian teams in the transtasman netball competition as our friends from across the ditch notoriously mark tight given their man-on-man style of defence.
There were no physical lines crossed last night but the Thunderbirds didn't give an inch and Broughton said her side would have to adjust this year if they wanted to compete.
"If people want that sort of game that's what we've got to do. To me, as a purist, you're not seeing good flowing movements through the court. You're not seeing probably the skills that some of these girls have but if that's what's going to win you the game that's maybe the way you're going to have to play."
Umpiring queries aside, this was a game the Pulse should never have lost.
Up by one with only seconds on the clock, van Dyk received the ball within her shooting range but she didn't get her shot away and was called for a hold.
That opening was all the Thunderbirds needed as they drew level before Carla Borrego eventually put them in front with the final play of the game as the Pulse were dealt another heart-breaking loss; something which has happened all too often for them over the years.
On the plus side, the Pulse can look at the fact they ran last year's champions within one goal but this game could come back to haunt Broughton's side later in the season given it was there for the taking.
They won't have too much time to dwell on it though, given the Southern Steel come to Wellington on Saturday afternoon.
"It's a professional game, they're professional athletes, you've got to move on. It just happens in all sport," Broughton said.
Sadly for the Pulse, it seems to happen with too much regularity.
Adelaide Thunderbirds 45 (Carla Borrego 32/37, Erin Bell 13/17) Central Pulse 44 (Donna Wilkins 25/28 Irene van Dyk 19/23) 1Q: 10-14, Halftime: 22-24, 3Q: 34-35.
- APNZ