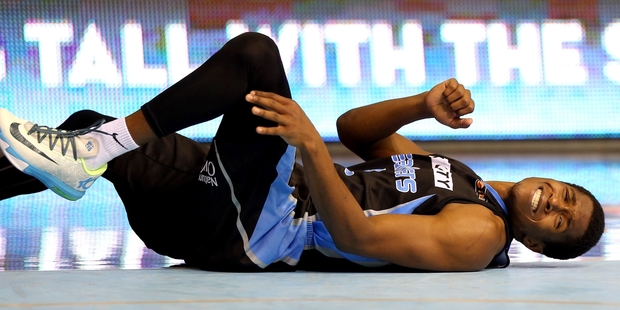 Now the Breakers are assured of finishing with a losing record, it's time to assess what went wrong in their broken season.
Saturday night's defeat in Cairns was costly for those in the club who remained confident of sneaking into the playoffs, while it also left the Breakers facing a best possible position of 13-15.
For a team whose last three records were 22-6, 21-7 and 24-4, it has been quite a slide.
And such a dramatic drop cannot be attributed to one or two reasons.
Instead, the defending champions were rocked by a perfect storm of factors contributing to their decline, some beyond their control and others for which they can blame only themselves.
First there were the offseason departures of a trio of personnel responsible for the Breakers' lofty standing.
Handing the reins from Andrej Lemanis to Dean Vickerman was a no-brainer - and there is no question the latter's job is now in danger - while replacing a player of Dillon Boucher's calibre was impossible.
But the club could be forgiven for desiring a do-over when it came to selecting someone to fill Cedric Jackson's considerable shoes. Kerron Johnson has shown flashes of his undoubted quality but, at 23 and in his first year of professional basketball, it was always asking a lot to expect him to consistently control games.
The other import spot was also problematic, with the club wisely opting to jettison Darnell Lazare after only four games. As it turned out, with Jackson's scoring load sorely missed, the Breakers needed more offence to remain competitive.
Gary Wilkinson's return provided that but it was still insufficient due to the season-long struggles on the defensive end. Where the defence was once a point of pride, this year it was the opposite and the Breakers have been ranked last in points allowed for much of the campaign.
It meant no matter how many they poured in - and they sit second in the competition in that category - no lead was safe. While the Breakers last season won all 11 games in which the final margin was 10 points or fewer, this year that record has fallen to 6-10.
That spoke of an inability to close out tight encounters which, in turn, could be explained by the disappearance of the lock-down defence they once exhibited.
Considering Vickerman was Lemanis' defensive guru and given the majority of the pieces were the same, there was one clear explanation for the reversal in fortunes. The Breakers were unable to adjust to the rule changes implemented in the offseason, leaving them to lead the league in both fouls committed and free throw attempts allowed.
Then there was the away form. For a team that generally targeted at least a split of road games, a 3-11 record in Australia was unacceptable.
When combined, all of these elements produced the club's first losing season since 2007 and left their final three games as little more than a farewell for CJ Bruton.