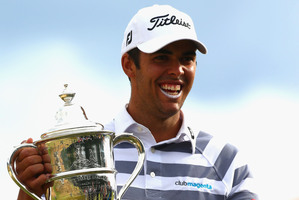 Australian golfer Dimitrios Papadatos began the final round of the New Zealand Open at Arrowtown with a one-shot lead and he never looked like giving it up.
The 22-year-old, who has a world ranking of 702, delivered a clutch six-under 66 at The Hills, near Queenstown, yesterday as the drought for a Kiwi winner continued.
Papadatos, a second-year professional, had never led a tournament heading into the final day and the stage was set for him to fall over but he didn't read the script.
He saved pars, made putts and then turned it on down the back nine as a collection of birdies saw him finish at 18-under for the tournament as he recorded a comfortable four-stroke win ahead of Kiwi Mark Brown.
Playing in the final group during the fourth round of a golf tournament has proved too much for plenty of players in the past but Papadatos held his nerve well.
"This is massive," he said of the $153,000 win.
"Obviously some great players have won this event, it's a massive honour.
"I wouldn't have told you at the start of the week I was capable of this ... I'm really happy."
Brown began the final day as one of two players who were one stroke back from Papadatos and the former European Tour professional shot a bogey-free three-under 69 yesterday as he finished at 14-under for the week.
The 39-year-old was particularly harsh on himself after the final round but despite not holing enough putts on his front nine, he didn't disgrace himself as Papadatos lit up The Hills.
"It was just a tough day," Brown said. "I didn't play particularly well tee to green and sort of hung in there but Dimi played a great round. You go out with a one-shot lead and you shoot a six-under 66, it's tough to beat. So it would have taken seven-under just to tie. So the way I played, I didn't have it in me. So he deserves it."
For Brown, it was yet another missed opportunity after he finished fourth at the last Open at Clearwater in 2012 when a poor final round saw him slip down the leaderboard.
"It's all about winning and particularly this tournament," Brown said. "So I take no solace in finishing second at all. It wasn't what I wanted so it's just really disappointing."
Heading into the final day, there were seven Kiwis in contention to become the first Kiwi winner since Mahal Pearce triumphed at Middlemore in 2003 but nobody could catch Papadatos who earned the right to etch his name on the Brodie Breeze Trophy.
Te Anau's David Klein fired a five-under 67 in his final round, as he finished third at 13-under and registered his biggest career payday with a $57,375 cheque.
Aucklander Richard Lee finished in a share of fourth at 12-under, alongside Victorian Ashley Hall.
Kiwi Ryan Fox looked like making a run at Papadatos during his final round but eventually signed for a three-under 69 as he claimed a share of sixth next to Australian Terry Pilkadaris at 11-under.
The revamped tournament, which wasn't contested in 2013, took on a pro-am format this year and the best ball pro-am competition was won by Australian Brody Ninyette and amateur Sam Hamilton despite Ninyette shooting a 13-over 85 in the professional tournament yesterday.
- APNZ