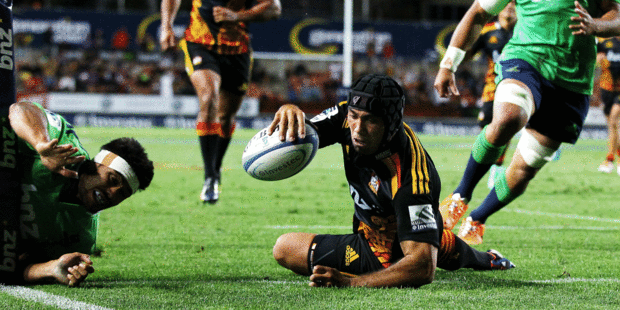 Chiefs 21
Highlanders 19
It's early in the piece to be definitive, but the Chiefs gave a strong hint tonight that they can collect a third consecutive championship.
It wasn't the class of the performance that impressed. Far from it, in fact. It wasn't anything particularly special in terms of creativity and intensity. It wasn't bad - just not up there with their best. Maybe not even in the top half of their portfolio.
But what it did display is their incredible resilience, strength of character and depth of squad. Super Rugby has long ceased to be a sprint - the best sides blasting out the blocks and never looking back until they have hit the tape. Now, it's a war of attrition - a painful slog into the depths of winter and the champion is the last side standing.
Injuries are inevitable and plentiful and it's the way the Chiefs shrug them off that is so important.
They were missing Ben Afeaki, Brodie Retallick, Sam Cane, Kane Thompson, Augustine Pulu and many more last night and yet they found a way to win. Others hoist the white flag and see a full physio's room as reason to make excuses. Not the Chiefs.
They had an inexperienced locking duo and a bench that had barely played at this level and yet not a peep about this being a challenge too far.
They had to be patient - the Highlanders were organised and destructive on defence and more than useful when they had the ball. The Chiefs had to believe the breakthrough would come in the final quarter and stick to their patterns, trust their plan and execution.
It was easy to feel for them. Chasing the game at 14-19, they had so much ball, played so well up until they hit the red zone, but their moment wouldn't come. The Highlanders scrambled, the Chiefs would make a mistake, the ball would be cleared, the pattern would begin all over again.
The frustration is often hard to keep at bay in such a scenario and it was ironic that it was, perhaps, a wrong option by Aaron Cruden that put them ahead. A stunning break by Liam Squire opened an acre of space on the right with an overlap. But Cruden checked and cross kicked. They got lucky.
The ricochet fell to Charlie Ngatai and the replay couldn't pick up whether Asaeli Tikoirotuma was in front of the kicker or not.
Luck, graft, skill ... they have a habit of combining effectively for champion sides. Without having shown anywhere near their full repertoire in the opening two weeks, the Chiefs have picked up eight points and have the luxury of a bye to recuperate and mend the walking wounded.
By way of comparison, the Crusaders have been nowhere near showing their best game either, but they haven't picked up a point yet.
The extra satisfaction for the Chiefs will have come in knowing that they beat an opponent who were more than worthy.
The Highlanders have lavished attention on their deficiencies. They have given up the irritating habit of going side-to-side endlessly. They are a more direct side, now, with a greater desire and ability to go forward.
They are also more willing to kick from hand, too and not churn through the energy with ball in hand when one big hoof would be more efficient.
It would be a surprise if they can retain their current momentum all the way to the playoffs - they don't have the depth or firepower - but they deserve acknowledgement for their tidy, smart and at times, enterprising rugby.
They looked about, roughly, one million times better tonight than they did at any stage last season and if they can continue to follow their simple gameplan, execute as well as they have, then they can at least be reassured they will be a hard enough side to beat.
Chiefs 21 (T. Nanai-Williams, L. Messam, C. Ngatai tries; A. Cruden 2 cons)
Highlanders 19 (J. Hardie try; L. Sopoaga con, 4 pens)