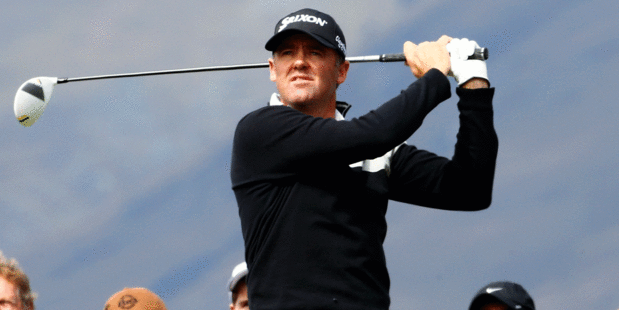 Low scores dominated the third round of the New Zealand Open at The Hills today.
Perfect conditions allowed for a host of birdies in Queenstown and Australian Dimitrios Papadatos has a one-shot lead over the field after three rounds.
The 22-year-old delivered a five-under 67 today as he moved to 12-under for the tournament with Kiwis Mark Brown and Richard Lee in second at 11-under.
Australian Ashley Hall holds outright fourth at 10-under, while four players have a share of fifth at nine-under.
Adam Bland, who enjoyed the round of the day with an eight-under 64, was pleased to make a move up the leaderboard as he became one of the foursome at nine-under.
"It went well. Early on I made a few solid birdies then made a few average bogeys which kind of put a stop to my round. Then on the back nine I hit some good shots, then holed them, converted them," Bland said of his round.
"The last few days I haven't been able to convert the good shots so today was a little bit different.
"I got up and down a couple of times, from some spots where it looked like I might have made bogey, I just putted really well from 10 to 15 feet, which I haven't done for a while so it's really good."
Lower Hutt's Gareth Paddison was another big mover today as he carded a six-under 66 and joined Bland, among others, in a tie for fifth.
The 33-year-old said he had a low-key evening planned after going to the putting greens for some more practice.
"Relax, totally. We've been having good dinners out in Queenstown. It's such a good place. It's a great week off the course, no matter how you play," he said. "It's ideal that I'm in contention, which is good because that was one of my goals and to shoot six-under today, I said to my friend and caddy, Mike, that six-under would be a good score to shoot and sure enough I did that and now it's just relax and look forward to tomorrow really."
Craig Palmer, who is the club professional at The Hills, is also in the mix heading in to the final day as he shot a seven-under 65 and joined the group at nine-under.
Auckland's Ryan Fox and Te Anau's David Klein are among a collection of seven players at eight-under for the week in a share of ninth.
There's a host of Kiwis in the hunt for the title, which will be pleasing for local fans given a New Zealander hasn't won the national open since Mahal Pearce triumphed at Middlemore in 2003.
American Rocco Mediate, who missed the cut of the professional tournament by two shots, made the cut of the pro-am event with amateur Mark Richardson but withdrew this morning citing aches and pains.
They can't have been too serious though as Mediate will open the final round of the tournament tomorrow by playing 18 holes with Prime Minister John Key and former British Open champion Sir Bob Charles
- APNZ