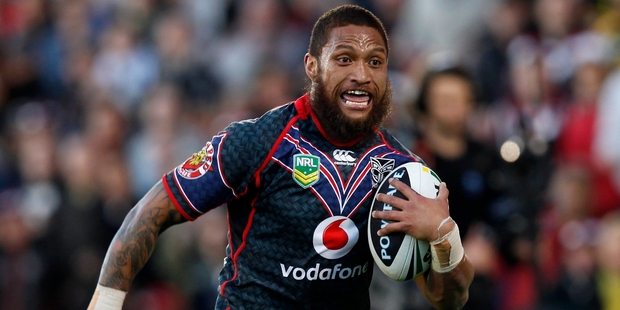 At the start of each season, Manu Vatuvei sets a series of goals but his main one, and the one he sets every year, is rarely achieved.
"One of my main goals is to have an injury-free season," he said.
Vatuvei could point to nearly every part of his body and tell a story about how and when it was injured.
Last season he injured an ankle, hamstring and rib before then straining his groin (a new one) at the World Cup.
Already this year he has missed all of the Warriors' pre-season matches, including the Auckland Nines, because of a quad strain (another new one). It's likely the big winger will be fit for next weekend's season-opener against the Eels and Vatuvei hopes that's the end of his injury complaints in 2014.
Sadly, history suggests it won't be. Vatuvei has played 171 NRL games since his debut in 2004, at an average of 17 games a season.
He has been largely free from major injuries but has never played every game of an entire season over 10 years in the NRL.
It's part of the reason why Vatuvei can't afford to look too far ahead. At 27 (he turns 28 on Tuesday), he should be near the peak of his career but there's always the spectre of how his body will cope.
He one day hopes to play internationally for Tonga with the 2017 World Cup an option.
"I'm not too sure," he said. "I don't know if I will still be in the game in four years. I just have to hope my body holds on and it doesn't break down. I have to do what's best for me. It might be for the Kiwis, it might be for Tonga.
"I have always had a desire to play for my heritage, for Tonga, and represent my family. It's something I have been thinking about but the Kiwis have given me some great opportunities."
Vatuvei was excellent in the early stages of the World Cup, scoring a hat-trick in the opening match against Samoa, before picking up a groin injury in the 40-4 win over Scotland. He missed the dramatic semifinal win over England but recovered in time for the final when the Kiwis were overpowered by Australia.
He also had a decent NRL season for the Warriors in 2013, scoring 16 tries in 19 games, and it helped him earn a new two-year deal with the club through to the end of 2015.
He will be an automatic choice on the left wing this season but selection on the right wing is wide open with the likes of Kevin Locke (when he's fit), Glen Fisiiahi, David Fusitua and Ngani Laumapi all in the frame.
Vatuvei went into last season in great shape, having prepared for the Fight for Life boxing contest against Eric Murray, but his off-season this time around was vastly different.
"This summer I didn't do too much," he said. "I had six weeks off after World Cup and went to Samoa to my wife's village. I just ate what I have always wanted to eat, like junk food.
"I came back about 110kg but I'm back to my match weight of about 106kg-107kg. I'm in good shape now so everything is going well."
The hope now is that it continues.
- APNZ