Captain Tutaia eager for new season despite injuries and tough opening match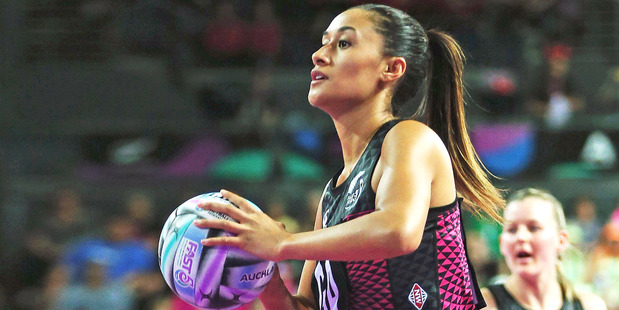 Northern Mystics captain Maria Tutaia is resting much easier on the eve of the transtasman league season than this time last year.
Determined to put a dreadful 2013 season behind them, the Mystics kick off their 2014 campaign in Melbourne tomorrow against the highly experienced Vixens. Over the first six seasons of the ANZ Championship wins on Australian soil have been difficult to come by for the Mystics - as they have been for every New Zealand side - but Tutaia is feeling much more comfortable about prospects across the Tasman, and the season ahead, than last season.
Named co-captain alongside Anna Harrison following the retirement of Mystics' stalwart Temepara Bailey, Tutaia soon found herself alone at the top when Harrison withdrew weeks out from the start of the season after announcing she was pregnant.
A season-ending injury to defender Charlotte Kight further drained the Mystics' experience. From there the Mystics' season descended into a downward spiral, finishing last on the table with just one win.
The Mystics' fortunes have only marginally improved in the lead-up to this season, with Harrison (foot), Jodi Tod-Elliott (ankle) and Kayla Cullen (knee) all out of the opening match through injury. Cullen isn't expected to be back for months.
But Tutaia believes her side are much better equipped to cope this year with the setbacks.
"I guess I haven't had as many sleepless nights as I did last year before the season had started with all the injuries we had," she said.
"Last year was very difficult with the people we lost, but this is a brand new season, new team and while we don't want to dwell on last year, we know we've got a lot to prove to our fans, our families, but more so to ourselves because it was very, very disappointing last year."
The Silver Fern star feels she is more prepared for the captaincy this year, having noticeably grown as a leader in the past 12 months.
"I feel like I'm enjoying the role a lot more this year. I've got a great bunch of girls, we've got a lot of good leaders in this team to help me out and put me in check when things aren't going too right."
The Mystics core of experienced players - Tutaia, Cathrine Latu, Australia international Julie Corletto and new recruit Laura Langman - have been busy preparing the youngsters in the squad for what to expect against the Vixens. The Mystics are fortunate to be able to call in three players with previous ANZ Championship experience from their wider training group to cover their injuries, with rookie defender Temalisi Fakahokotau the only untested player in the league.
Mystics coach Debbie Fuller said she has every confidence the 19-year-old defender will rise to the challenge if called on to take the court.
"This is a great opportunity for her to test herself against the speed. The Australians love playing that precision game, they love hitting the circle edge at high speed and a rotating circle.
"So it is a little different for Temalisi - she's trained against Cathrine and Maria, who play a different style of in-circle attack," said Fuller.
"But we've done enough this week to simulate the speed at which Tegan Caldwell and Catherine Cox will move that circle."
ANZ Championship
Round 1
Today: 4.20pm Mainland Tactix v Waikato-Bay of Plenty Magic, Christchurch.
Tomorrow: 2.18pm NSW Swifts v West Coast Fever, Perth; Melbourne Vixens v Northern Mystics, Melbourne; 7.20pm Southern Steel v Queensland Firebirds, Invercargill.
Monday: 7.40pm Central Pulse v Adelaide Thunderbirds, Porirua.