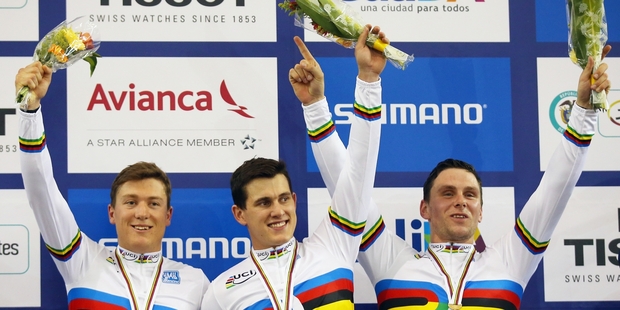 The growing belief that New Zealand's track cycling sprinters were on the verge of something special was proved right yesterday when they won the team sprint at the world championships in Colombia.
The trio of Ethan Mitchell, Sam Webster and Eddie Dawkins beat a powerful German combination, the defending world champions, in the gold-medal ride after earlier setting the fastest time in qualifying.
Not only that, they also broke 43 seconds for the first time, stopping the clock at a slick 42.840 seconds.
It rounded out a great day for the Kiwi riders, with Dylan Kennett, Pieter Bulling, Aaron Gate and Marc Ryan earlier claiming bronze in the men's team pursuit.
BikeNZ unearthed an immensely talented group of young sprinters about five years ago and they have seen a steady progression. Simon van Velthooven claimed bronze in the keirin at the London Olympics and the team sprinters have gone from bronze (2012) to silver (2013) and now gold at the world championships.
They are young, with the trio having an average age of 23, and the result will have made their rivals sit up and take notice two years out from the Rio Olympics. They are also under a new coach, with Anthony Peden taking over from Justin Grace.
New Zealand trailed Germany narrowly after the second of three laps before Dawkins powered home against four-time world champion Maximilian Levy in a personal best time of 12.976 seconds to snatch the gold from Germany by 0.045 seconds.
Mitchell is acknowledged as one of the best starters in sprinting and Webster then delivered Dawkins perfectly for his flying lap.
"It's a dream come true," Mitchell said. "For me, it's been a while coming. I was a junior world champion back in 2009 and been striving for this for a long time now. To get up there on top podium with the boys was incredible. Eddie brought it home the best I have ever seen him with a PB [personal best] on the last lap. To watch him do that was something I will always remember."
It was also a special day for the team pursuiters. Kennett, Bulling, Gate and Ryan are a new combination but finished ahead of some strong teams including Great Britain, Germany and Russia.
They were fourth-fastest in qualifying but comfortably beat Russia for the bronze. Their time of 3:58.989 was the second-fastest of the day, behind only Australia (3:57.907), who beat Denmark in the gold-medal rideoff.
"The boys are feeling pretty bloody good," Bulling said.
New Zealand will hope to add more medals, starting today when Dawkins and van Velthooven race in the keirin, Kennett in the 15km scratch race and Shane Archbold and Ryan in the individual pursuit.
Van Velthooven will be in the 1km time trial tomorrow when Gate also begins his quest to defend his world omnium title.
•Results from the track cycling world championships in Cali, Colombia, yesterday: Men's 4000m team pursuit: Australia 3:57.907, 1; Denmark 3:59.623, 2; New Zealand 3:58.989, 3; Russia 4:00.777, 4. Men's team sprint: New Zealand 42.840, 1; Germany 42.885, 2; France 43.285, 3; Russia, 43.309, 4.