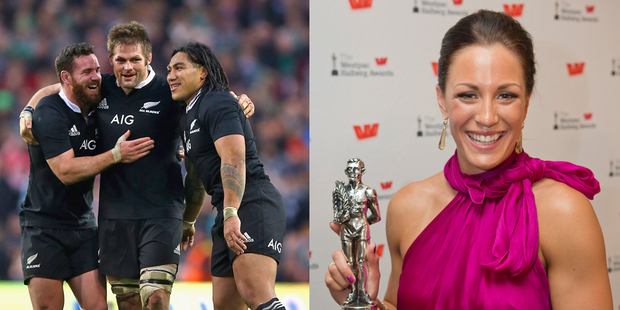 A double for New Zealand in the finalists for the prestigious international Laureus Sports Awards for 2014.
The All Blacks have made it into the final six of the Laureus Team award for the third time in four years.
They're alongside European football champions Bayern Munich, the Brazil men's football team, history-making doubles tennis pair Bob and Mike Bryan, NBA champions the Miami Heat and Red Bull Motor Racing.
The All Blacks won all 14 of their test matches in 2013, a 100% record - the first time a national team have achieved this since rugby went professional.
Kiwi Paralympic swimmer Sophie Pascoe is a finalist in the Sportsperson with a disability category.
Pascoe produced a tour de force in the IPC Swimming World Championships in Montreal, winning five gold medals in her five events. She also set four world records and was voted IPC Athlete of the Month for August. In September, she broke another two world records at the New Zealand Short Course Championships.
Her achievements in 2013 continued her earlier successes. In 2008 at the Beijing Paralympics, as a 15-year-old, she won three gold medals and one silver and four years later in London she won three gold and three silver medals.
The competition is likely to be particularly fierce in her category, where the nominees between them won an amazing 32 gold medals in world championship events in 2013. Also nominated are wheelchair racers Tatyana McFadden and Marcel Hug, two other swimmers, Norway's Sarah Louise Rung and Ukraine's Olga Sviderska, and French skier Marie Bochet.
Fellow New Zealanders Valerie Adams and Kieran Read were shortlisted for their awards, but failed to make the finals.
Oracle Team USA are up for Comeback of the Year following their amazing victory over Team New Zealand to claim the America's Cup after trailing 8-1.
Among the giants of sport who have been nominated are three-time Laureus winners Usain Bolt and Serena Williams, Formula One world champion Sebastian Vettel, short-listed for the fifth time, and Tiger Woods, who won in 2000, the inaugural year of Laureus, who is selected again after returning to the summit of world golf.
Spain's Rafael Nadal and Russia's Yelena Isinbayeva, both two-time Laureus winners, are nominated in two categories.
One of the most intriguing questions in this year's contest is whether charismatic Real Madrid and Portugal footballer Cristiano Ronaldo or Miami Heat superstar LeBron James, both nominated, can become the first team player to win the individual Laureus World Sportsman of the Year Award.
The awards will be held late next month.
Laureus World Sportsman of the Year
Usain Bolt (Jamaica) Athletics - won 100m, 200m and 4 x 100m World Championship gold medals
Mo Farah (UK) Athletics - won classic 5,000m and 10,000m double in World Championships
LeBron James (US) Basketball - Miami Heat star, voted NBA MVP for fourth time in five years
Rafael Nadal (Spain) Tennis - winner of French Open, US Open and five ATP Masters event
Cristiano Ronaldo (Portugal) Football - scored 69 goals for Real Madrid and Portugal in 2013
Sebastian Vettel (Germany) Motor Racing - won fourth straight Formula One World Championship
Laureus World Sportswoman of the Year
Nadine Angerer (Germany) Football - FIFA Women's Player of the Year, captain of German team
Missy Franklin (US) Swimming - at 18, won a record six gold medals in World Championships
Shelly-Ann Fraser-Pryce (Jamaica) Athletics - won three sprint gold medals in World Championships
Yelena Isinbayeva (Russia) Athletics - won pole vault world title in front of home Russian crowd
Tina Maze (Slovenia) Skiing - won Overall World Cup and three other disciplines, plus Super G world title
Serena Williams (US) Tennis - won French Open and US Open, plus eight other tournaments in 2013
Laureus World Team of the Year
All Blacks (NZ) Rugby Union - first time a national team achieved a 100% record in professional era
Bayern Munich (Germany) Football - won Champions League, Bundesliga and German Cup treble
Brazil Men's Football Team - won Confederations Cup, beating World Cup holders Spain in final
Bob & Mike Bryan (US) Tennis - completed doubles 'Golden Slam' - four Grand Slams and Olympic gold
Miami Heat (US) Basketball - won NBA title for second straight year, beating San Antonio Spurs in final
Red Bull (Austria) Motor Racing - won fourth straight Formula One Constructors' World Championship
Laureus World Breakthrough of the Year
Afghanistan Cricket Team - learned cricket in refugee camps, in 2013 reached first World Cup finals
Marc Márquez (Spain) Motor Cycling - youngest ever MotoGP world champion, at 20 years 266 days
Raphael Holzdeppe (Germany) Athletics - won Germany's first World Championship pole vault gold
Nairo Quintana (Colombia) Cycling - first Tour de France rookie to finish on the podium since 1996
Justin Rose (UK) Golf - won his first Major Championship at US Open, at the age of 32
Adam Scott (Australia) Golf - first Australian winner in the 77-year history of US Masters
Laureus World Comeback of the Year
Yelena Isinbayeva (Russia) Athletics - won pole vault world title in front of home Russian crowd
Rafael Nadal (Spain) Tennis - winner of French Open, US Open and five ATP Masters event
Oracle Team USA - Sailing - 8-1 down in America's Cup, Oracle fought back for a remarkable 9-8 victory
Tony Parker (France) Basketball - European Championship MVP after recovering from serious eye injury
Ronaldinho (Brazil) Football - at 33, led unfashionable Atlético Mineiro to victory in Copa Libertadores
Tiger Woods (US) Golf - US PGA Player of the Year after five tour victories, regained world No 1 ranking
Laureus World Sportsperson of the Year with a Disability
Marie Bochet (France) Skiing - first winner of all five disciplines at a single Alpine World Championships
Marcel Hug (Switzerland) Wheelchair Racing - won five golds and a silver medal at World Championships
Tatyana McFadden (US) Wheelchair Racing - won four city marathons and six golds at World Championships
Sophie Pascoe (NZ) Swimming - won five gold medals out of five attempts at World Championships
Sarah Louise Rung (Norway) Swimming - won four gold medals in her five races in World Championships
Olga Sviderska (Ukraine) Swimming - took five individual and two relay golds in the World Championships
Laureus World Action Sportsperson of the Year
Jamie Bestwick (UK) BMX - only athlete in X Games history to win eight straight gold medals
Bob Burnquist (Brazil) Skateboarding - overtook Dave Mirra to win a record 25th X-Games gold medal
Mick Fanning (Australia) Surfing - clinched his third World Surfing Championship in last event of year
John John Florence (US) Surfing - scored perfect 10 for completing the Alley Oop in Bali
Maya Gabeira (Brazil) Surfing - nearly drowned after attempting to surf a 70ft wave in Portugal
Shaun White (US) Snowboarding - won sixth consecutive SuperPipe gold medal at Winter X Games
- Newstalk ZB/NZ Herald