Rocco Mediate hasn't come to the New Zealand Open just for a holiday.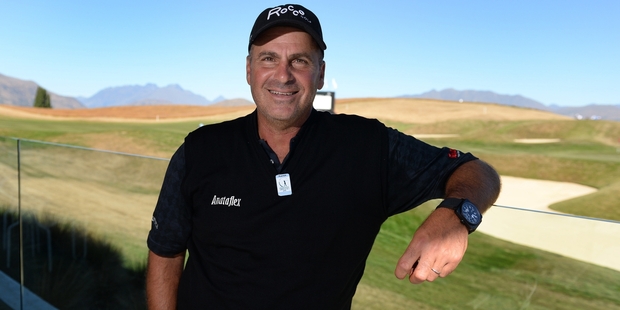 If American golfer Rocco Mediate can play anything like the way he holds court with the media, he won't have too many problems at the New Zealand Open this week.
The 51-year-old, who now plays predominantly on the Champions Tour, is the headline act among the international players for this week's tournament starting at The Hills and Millbrook Resort in Arrowtown, near Queenstown, today.
He is probably best known for his remarkable duel with Tiger Woods at the US Open in 2008, when Mediate eventually lost at a sudden-death playoff hole after the pair had played an extra 18 holes on Monday after they were locked up following four rounds.
Woods, who played most of the tournament with severe pain in his left knee, drained a series of unlikely putts throughout the week and triumphed when Mediate made a bogey on the par-four seventh at Torrey Pines, while Woods made par at the sudden-death hole.
Losing in such dramatic fashion would have destroyed many players but Mediate, a six-time winner on the PGA Tour, claimed the Fry's.com Open in 2010, which proved he could bounce back.
That victory also meant Mediate held on to his tour card until he turned 50 where he made a seamless transition to the Champions Tour and was a two-time winner in 2013 as he claimed rookie of the year honours.
Mediate is regularly asked about his battle with Woods and although you get the feeling it has become tiresome, he politely went through the final stages of the tournament during an entertaining press conference at The Hills yesterday.
"It's part of the deal, I don't think that Tiger's ever said a word about it, he hasn't, have you read one? Because if you have, let me see it," Mediate said.
"Now that's the one I'd want to talk to about it if I were you guys [the media] because I've already said what I've said but he won't want to have anything to do with it."
Mediate comes into this week on the back of his honeymoon in the Bahamas and has overcome a mysterious hip problem.
He said travelling to the South Island for the $900,000 tournament wasn't just an extension of his holiday with his new bride, though.
"I didn't come just to hang. There's no excuses, I feel fine and I'll be ready to go. I love four-round events. After just a year on the Champions Tour I'm still not used to the three rounds, after 27 years of four-round events."
With the new pro-am format, Mediate will play his first two rounds of the tournament alongside former Black Cap Mark Richardson, while Mediate's playing partner, Michael Hendry, is paired with amateur Rod Duke.
FIVE TO WATCH
1. Michael Hendry New Zealand.
World rank: 214. TAB odds: $13
The Kiwi No 1 starts as favourite and has the CV to back it up. Hendry plays on the Japan Tour and has been victorious on his past two trips to The Hills when he won the New Zealand PGA Championship in 2012 and 2013.
2. Matthew Griffin Australia.
World rank: 236. TAB odds: $20
Griffin has been in fine form lately and won the Victorian Open last weekend. The 30-year-old was the top earner on the OneAsia Tour last year and is leading the PGA Tour of Australasia's order of merit after three events.
3. Scott Hend Australia.
World rank: 125. TAB odds: $17
Hend is the highest-ranked golfer in the field. Long off the tee, the 40-year-old has won five times on the Asian Tour, including three victories last year. He turned professional in 1997.
4. Yuki Kono Japan.
World rank: 279. TAB odds: $50
Kono is one of a handful of Japan Tour players who were invited to the NZ Open by tournament organisers. The 25-year-old finished 33rd on the Japan Tour's order of merit last year and has enjoyed a strong off-season of practice.
5. Nick Cullen Australia.
World rank: 286. TAB odds: $25.
The left-hander from South Australia has just earned his Asian Tour card and finished tied for sixth at the New Zealand PGA Championship at The Hills in 2012. The 29-year-old finished ninth at the last New Zealand Open at Clearwater 15 months ago.
- APNZ